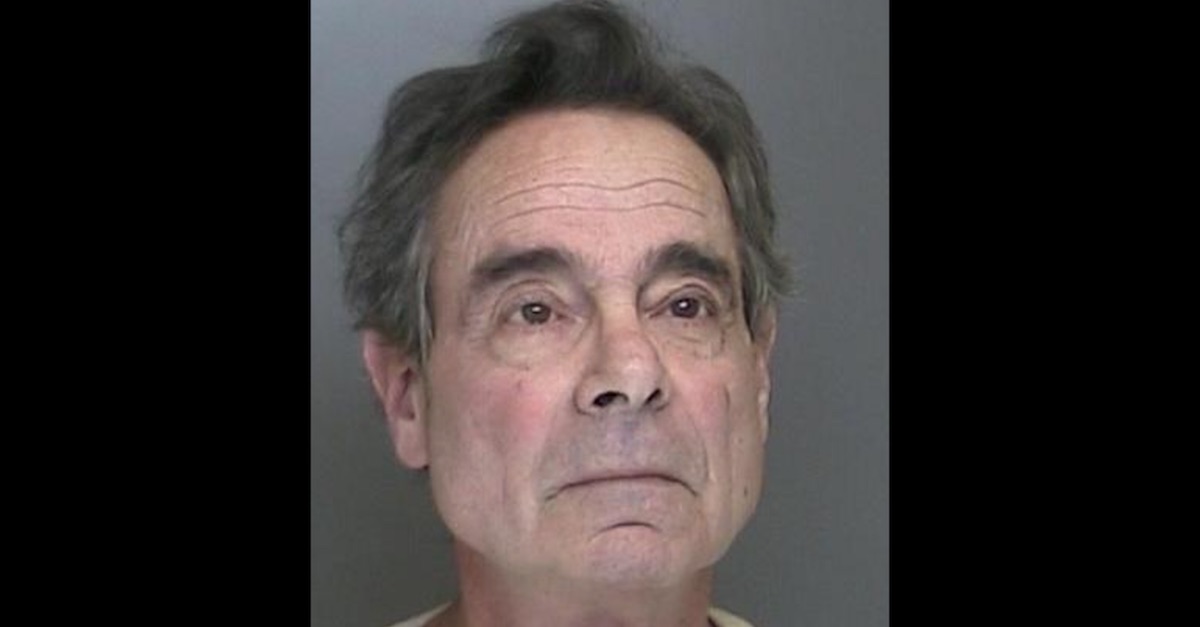 A 74-year-old man from Smithtown, N.Y. with a history of run-ins with the law was arrested and charged Friday for allegedly threatening to murder two U.S. senators due to their support of Supreme Court Justice Brett Kavanaugh.
Ronald DeRisi, Law&Crime can confirm, is pictured above in a mugshot dating back to 2011, when he was charged for cutting cell tower cables and causing $100,000 in damage.
DeRisi was accused of leaving threatening voicemails, in which he threatened to murder and assault two senators because of their support for Kavanaugh. It's not clear at this time which senators were threatened, as they were only identified as Senator-1 and Senator-2. Nor does the criminal complaint, which you can read in full below, identify the senators.
These messages were initially described as "expletive-laced." The complaint confirms this.
DeRisi allegedly said that he had a "present" for Senator-1.
"It's a nine millimeter. Side of your fucking skull, you scumbag motherfucker," the first voice message said. "Yeah, Kavanaugh I don't think so."
Another message, this one to Senator-2 said, "You asshole, you son of a bitch … Hey, maybe you should go back to [your home state."
"But thanks for sending us your address; that does help, thank you," the message continues, with DeRisi allegedly reading out that address. "We'll be in touch. See ya soon, see ya soon."
Another message: "What the fuck was that? What the hell? Wonder if this that [Senator-2], that fucking twit."
And then another message: "We're tired of this guy. Sucking taxpayers' money! Getting a free fucking ride! How many more years you gonna do it? None! He's a dead man! Nine millimeter, side of the fucking head! If fucking Kavanaugh gets in, he's dead fucking meat! Actually, even if Kavanaugh doesn't get in he's dead fucking meat! Nine millimeter, side of the head, you fucking old bastard!"
You get the idea.
DeRisi was arrested in Smithtown, N.Y. on Friday morning, according to a press release from the U.S. Attorney's Office in the Eastern District of New York. U.S. Attorney Richard P. Donoghue said that threatening public officials who are just doing their job is a threat to the American system of government.
"Representative democracy cannot work if elected officials are threatened with death for simply doing their job. The First Amendment – the pinnacle of American achievement – protects debate, disagreement and dissent, not death threats," he said. "We and all those dedicated to the rule of law will not tolerate the use violence and threats of violence in attempts to prevail in political disputes."
DeRisi Complaint by Law&Crime on Scribd
[Suffolk County Police]
Have a tip we should know? [email protected]