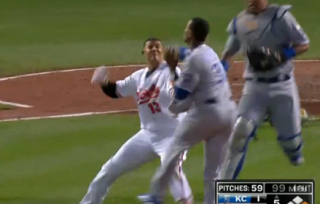 Following an altercation during an Orioles-Royals game on Tuesday night, Oriole third baseman Manny Machado is likely to be suspended for starting a fight with Royals pitcher Yordano Ventura.  Ventura threw a 99 mile an hour fastball that hit Machado in his lower back, prompting Machado to charge the mound. Machado managed to hit Ventura a couple of times before the benches cleared and the fight was stopped by the umpires.  Following the brawl, both Machado and Ventura were ejected and are likely to be suspended.
Here's the video of the hit by pitch:
However, the Orioles are furious with the impending suspension because they believe that Ventura was trying to hurt Machado.  Earlier in the game, Ventura threw two pitches, clocked at 97 and 98 miles an hour respectively, that travelled far inside on Machado, giving rise to the idea that Ventura was attempting to injure Machado.  In fact, some Orioles are defending Machado's decision to retaliate.
"I'm glad for Manny for defending himself…Someone is trying to hurt you maliciously, you go out there and defend yourself. I hope the league reviews what happened. When you have a weapon at 100 mph and you don't have to hit, and you are trying to hurt somebody, that is not part of the game," said Orioles centerfielder Adam Jones in a post game press conference to CBS Baltimore.
Indeed, Jones took his statements one step further. Assuming that Machado will be fined for the incident, Jones said "I've got Manny's fine and the rest is history."
While it is still early in the season, a suspension for Machado could be disastrous for the Orioles' playoff chances.  Machado may even decide to appeal his likely suspension.  
Have a tip we should know? [email protected]