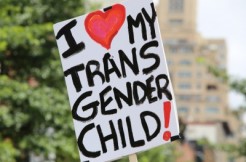 The Oregon Department of Education issued a statement on Thursday, telling schools and teachers they should treat transgender students according to their gender identity.
"As a response to student, parent, and school district requests, the Oregon Department of Education, working with stakeholders, developed these guidelines to provide assistance for districts to foster an educational environment that is safe, free from discrimination, and aligned with state and federal laws," the statement said.
It lays out guidelines for how to treat transgender students, what sports teams they can enroll in, what clothes they can wear, and what restrooms they can use. It's absolutely pro-trans. For example, a transgender boy can use the boy's restroom, wear a tuxedo at prom, and try out for the baseball team.
There are also accommodations for locker room scenarios. A guideline suggested that an uncomfortable transgender student should get a private space for changing if they don't want to be seen by the other students (eg. using curtains in the locker room).
The statement didn't require rigorous requirements or even documentation for a student to declare their gender identity. The kid's assertion is enough. Parents can enroll their transgender child accordingly, the statement said.
Mind you, these all really are just suggestions, not hard and fast rules.
"These guidelines are not legal advice, nor should they be relied on as legal advice," the statement said. "If you require legal advice regarding the issues discussed in these guidelines, please consult an attorney."
Nonetheless, the statement said both Oregon and Federal law protect transgender people.
You can read the full statement here:
It's sure to be as every bit as controversial as anti-trans policies in other states. Lawmakers in North Carolina recently passed a law that mandates people in state buildings use bathrooms that match the sex on their birth certificate. The Justice Department said on Wednesday that the law violates civil rights protections, but North Carolina House Speaker Tim Moore has scoffed at the demand to repeal it.
[image via a katz / Shutterstock.com]
–
Follow Alberto Luperon on Twitter (@Alberto Luperon)
Have a tip we should know? [email protected]