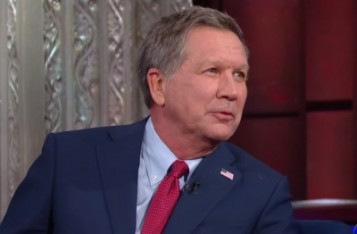 Ohio Gov. and former Republican presidential candidate John Kasich vetoed the so-called "Heartbeat Bill" on Tuesday that would have forbid doctors to perform abortions when a fetal heartbeat can be detected.
Kasich vetoed the bill on Tuesday afternoon, having previously questioned the constitutionality of the legislation. The law would have been one of the most restrictive abortion laws in the country. Similar laws in other states have been deemed unconstitutional by federal judges who ruled the measure unduly restricts a woman's right to have an abortion early on in the pregnancy.
Kasich, however, signed a separate abortion bill into law on Tuesday that banned termination of "a human pregnancy of a pain-capable unborn child."  In practice, the legislation prohibits abortions after 20-weeks into the pregnancy.
"I agree with Ohio Right to Life and other leading, pro-life advocates that SB 127 is the best, most legally sound and sustainable approach to protecting the sanctity of human life," Kasich said in a statement, according to the local newspaper.
The new law goes into effect in 90 days, making it a fourth-degree felony punishable by up to 18 months in prison and the loss of one's medical license if doctor to perform an abortion after 20-weeks.
The law does contain an exception for the life of the mother.
[image via screengrab]
Have a tip we should know? [email protected]