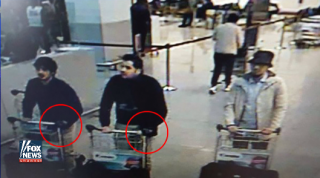 A surveillance image of the three primary suspects in Tuesday's Zaventem Airport and Maelbeek metro station bombing in Brussels shows mysterious black gloves on the hands on two of the suspects. The image, taken just moments before the bombs detonated and the explosions went off, shows the three suspected men, two of whom are wearing a black glove on their left hand (circled in the image above), dressed similarly and tightly gripping luggage trolleys.
On Tuesday afternoon, Fox News' Chief Intelligence Correspondent Catherine Herridge advanced two theories on the black gloves in the surveillance photo.
She divulged that the men were not worried about their fingerprints since they were only wearing one glove each. Therefore, the imagery of the one-gloved hand could mean one of two things: (1) it could be a dead-man switch, which has the effect of detonating a bomb once applied pressure is lifted, or (2) it could mean there were live wires in the gloves that may have detonated the luggage trolleys the men were gripping. Further, Harris observed that their choice of khakis was meant to mirror the fashion of American citizens, remarking that khakis are not popular in Europe.
According to current counterterrorism sources and former law enforcement sources cited by Herridge, the man on the right side of the picture, in a beige jacket and black fedora or top hat seems to be wearing a disguise. Herridge believes that the man's hat, in conjunction with what looks like makeup or a prosthetic nose—which is not consistent in color with the rest of the man's facial complexion—indicates a hidden identity. As Herridge stated, "It is not uncommon in suicide attacks for there to be an escort for the bombers. It's making sure that the bombers get to the target. So, the individual acts as an escort, has fore knowledge having cased the area and gets them to the location."
ISIS has taken responsibility for the attacks via a news agency in one of their propaganda arms.
[h/t FoxNews]
[Screengrab via FoxNews]
Have a tip we should know? [email protected]