Podcast: Play in new window | Download
Subscribe: RSS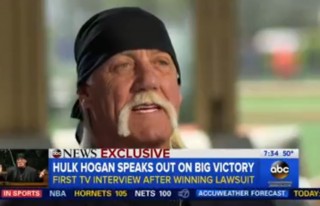 Former wrestler Hulk Hogan spoke exclusively with Good Morning America on Wednesday for the first time since winning a $140 million verdict in his case against the gossip website Gawker.
"They picked the wrong guy this time," Hogan said in the interview.
Hogan sued the website in 2012 after it published parts of a video that showed him having sex with the wife of radio shock jock Bubba "The Love Sponge" Clem. The jury awarded Hogan a whopping $140 million in total damages — $55 million in economic injuries, $60 million for emotional distress, plus an additional $25 million in punitive damages which was awarded in a separate verdict on Monday. Hogan said he had the option to settle with the gossip website, before the trial began, but decided against it because he wanted to expose the website for what they did to people.
WATCH:
"We were doing what was right, even if we would have lost, even if we would have lost, it would have been good because everyone would have known what Gawker is all about because I exposed them for what they do, how they look at the world. To me it is very, very scary," Hogan said.  Probably the most awkward moment for Hogan during the trial was when he walked into the men's restroom and came face-to-face with Gawker's founder, Nick Denton. It was just the two of them.
"What if he falls down and holds his neck or something. Who they are going to believe? The second thought is, if this was WrestleMania, he was in the ring with me, wouldn't that be fun?  " Hogan said.
Hogan said the hardest part of the ordeal was telling his kids about the tape, and the embarrassment.
"I will be naked forever, until my children's children's children die, because of the internet," he said.  "I can make a million excuses. It's very embarrassing…its not who I am."
Gawker's founder, Nick Denton, fired back in  a scathing response posted online Monday night. Denton claimed the "sham" trial went "wildly off the rails," and said Hogan's attorneys played on the jury's emotions, leading them to sympathize with a local celebrity instead of following the law. Gawker is confident they will win the case on appeal.
Ronn Blitzer contributed to this report.
[screengrab via ABC News]
Have a tip we should know? [email protected]
Rachel Stockman - Editor in Chief / On Air Host