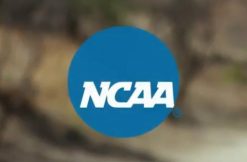 A North Carolina sports official told state lawmakers on Monday that the National Collegiate Athletic Association might pull championship events through spring, 2022. That's because of the controversial HB 2. This law makes transgender people use bathrooms matching the sex on their birth certificate when they use public restrooms.
"Our contacts at the NCAA tell us that, due to their stance on HB 2, all North Carolina bids will be pulled from the review process and removed from consideration," wrote Scott Dupree, executive director of the Greater Raleigh Sports Alliance, according to Reuters. He said this will hurt the state's tourism industry.
We reached out to the NCAA for comment. This is their statement:
The NCAA decided in September to remove championships from North Carolina for the 2016-17 season, and it has not yet determined future championship sites. The NCAA expects to announce site selections for the 2018-19 through 2021-22 championship seasons in April.
This organization has already pulled the Division I men's basketball tournament from the state for the 2016-2017 academic year. The NBA also took the 2017 All-Star game from Charlotte because of the law.
Governor Roy Cooper, a Democrat, has already responded to Dupree's claim.
Governor Cooper's statement on reports that the NCAA would remove all tournament games from NC for 6 years if HB 2 is not repealed: pic.twitter.com/BjyBuXD4Tj

— Governor Roy Cooper (@NC_Governor) February 6, 2017
That might be difficult. The Republican-controlled legislature has balked at pulling back. In fact, one effort to repeal the law failed in December.
Update – February 7, 8:15 a.m.: We added a statement from the NCAA. You can read it above.
[Screengrab via NCAA]
Have a tip we should know? [email protected]