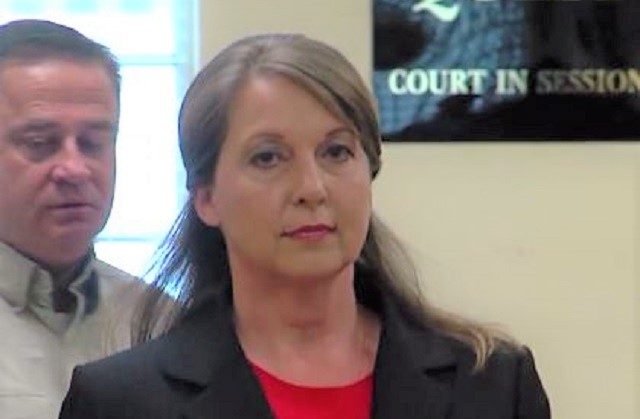 Police Officer Betty Shelby, acquitted for shooting unarmed black man Terence Crutcher, is leaving the force.
"Since being reinstated, I have found that sitting behind a desk isolated from all of my fellow officers and the citizens of Tulsa, is just not for me," she wrote in a statement released Friday.
Officer Betty Shelby has announced her resignation from the Tulsa Police Department. pic.twitter.com/8Ibj6ykinF

— 2 Works for You (@KJRH2HD) July 14, 2017
She will resign from the Tulsa Police Department on August 3.
A jury found her not guilty of first-degree manslaughter for a traffic stop gone wrong. She said Crutcher didn't listen when she told him to lie down on the ground, and it seemed like he was reaching inside his SUV for a firearm. Shelby also claimed that he seemed like he was on PCP. (An autopsy reportedly discovered the drug in his body, and cops claimed they found some of it in his vehicle).
There was no firearm, however, but the prosecution failed to convince jurors that Shelby's actions fit the crime. They argued out that Crutcher, 40, had his hands in the air, and wasn't aggressive.
Officials released video of the incident last year.
The trial and verdict came amidst a nationwide debate over whether law enforcement generally respects the due process rights of black people. In June, a Minnesota cop was acquitted in the death of Philando Castile. Prosecutors tried to dispute whether the officer saw the man's gun, or simply assumed he was reaching for one.
[Screengrab via KTUL]
Have a tip we should know? [email protected]