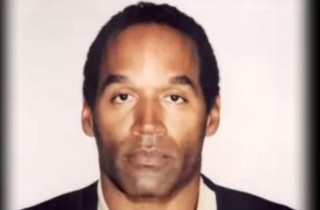 It's the story that just won't go away. In 1995, a California jury acquitted former NFL running back O.J. Simpson for the deaths of his wife Nicole Brown Simpson, and her friend, Ron Goldman. The controversial verdict set off over two decades of debates: Did he get away with murder? A new ESPN documentary, O.J.: Made in America, will reexamine not only the case's result, but what it means for our society.
Director Ezra Edelman promised the mini-series, which clocks in at over seven hours, will be comprehensive.
"The last thing I want to do is take away from the greater message of the film, which is honestly trying to hear from all sides, and to understand why all this stuff happened, both the crime itself potentially, and but also sort of why everyone lost their minds in the case, and why the verdict was what it was," he told Good Morning America in a Thursday report.
After all, race largely explains why Simpson's murder case latched onto the public consciousness for years, and that element will be examined in the documentary. Viewers should expect to learn not just about Simpson—who attended a predominantly white university—but about historical tensions between the Los Angeles Police Department, and black people.
Former LA District Attorney Gil Garcetti, who said he's declined interviews linked to the case for over 20 years, said his son convinced him to speak for OJ: Made in America. In a talk with Good Morning America, he claimed to have seen the documentary, and said it reveals things he didn't know before: The evidence that partly exonerated Simpson—his hand didn't fit inside a glove linked to the murder—was misleading. Simpson reportedly took arthritis medication that caused his hands to swell.
Simpson lost a 1997 civil trial that found him culpable for Brown-Simpson's and Goldman's deaths. He is in a Nevada prison after a 2008 conviction for kidnapping and other crimes.
The first episode of O.J.: Made in America premieres at 9 p.m. EST on ABC. ESPN carries the other four episodes on June 14, 15, 17, and 18, also at 9 p.m.
–
Follow Alberto Luperon on Twitter (@Alberto Luperon)
Have a tip we should know? [email protected]