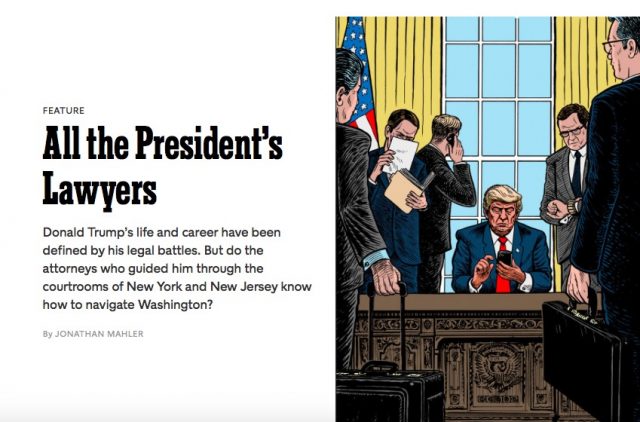 President Donald Trump's favorite newspaper of record, The New York Times, had a lengthy profile titled "All the President's Lawyers" in this week's magazine. If you were hoping to learn anything new about Trump's legal team, you will be sorely disappointed. Instead, the profile written by Jonathan Mahler rips into Trump's legal strategy by attempting to coin a new term called "Trump Law," which the author describes as full of showmanship and fluff, but lacking any substance. However, it is his article that lacks any substance.
"Trump Law is theater. What matters most is showmanship," he writes. The article (written by a "staff writer" and not an opinion editor) begins by describing Trump's career as effectively "one long legal entanglement.' It goes on to describe all of the different lawyers that Trump has hired over the years. Sadly, the piece seems to be just a regurgitation of much of what has already come out about Trump, and his legal team. Most of the details in the 3,000-word profile have already been revealed during the course of the presidential election and his first months in office. All of which we have written about extensively on this very website.
The article did include a new interview with Jay Goldberg, who served as Trump's exclusive litigator from 1990 to 2005.  About the only new thing in that interview was the revelation that Trump hired Goldberg to handle his divorce from his first wife, Ivana, after seeing a magazine titled "Courtroom Killers."
The piece went on to describe the components of what the author termed "Trump Law" which he says is not "about the merits of a case or even its resolution. It doesn't matter if you're threatening to sue, suing or being sued yourself. What matters is that you dominate, or be seen as dominating."
The author continues:
At the same time, Trump Lawyers embody the cliché of a certain type of litigator in much the same way that Trump's properties embody the cliché of luxury. They are rainmakers; they are flamboyant; they are bare-­knuckled; they are hard-­charging.
While describing some of Trump's recent legal battles, the author fails to mention some of Trump's recent wins. For example, last month, the U.S. Supreme Court agreed to hear the travel ban case, and let much of it go into effect in the meantime (a fact nearly every legal scholar concedes is at least a temporary victory for the President.) The piece ended with this stinger: "Trump Lawyers don't anticipate problems or take precautions at all. Trump Lawyers fight — occasionally in courtrooms, but mostly on TV."
While it cannot be denied that the profile piece has a ring of truth, and puts into words what many lawyers are thinking, it failed at giving the readers a greater understanding of Trump's legal strategy.  Instead, the piece reads, I hate to say it, a lot like a hit piece on our President.
[screengrab from NY Times website]
This is an opinion piece. The views expressed in this article are those of just the author.
Rachel Stockman - President / On Air Host