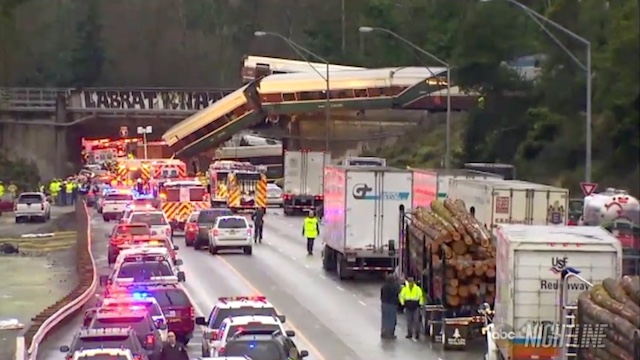 The National Transportation Safety Board says the engineer of a derailed Amtrak train in Washington State "made a comment regarding an over speed condition" just six seconds before his train derailed, killing three and injuring dozens. Video then captured a motion consistent with a brake application, the NTSB said.
The train crashed at exactly 78 miles per hour, according to the locomotive event recorder. While the line was designed for approximately 80 mile-per-hour train movements, the curve the train was entering carried a timetable speed limit of 30 miles per hour, the NTSB had previously said. It had widely been assumed the train did not properly slow down for the curve when it crashed.
A Chicago law firm also says it has been hired to represent "a number of victims" from the crash. In a press release, the firm analogized the Washington State crash to a 2015 high-speed derailment on a curve near Philadelphia, Pennsylvania, and argued that "[t]he safety culture of Amtrak must be thoroughly reviewed and analyzed . . . repeated failures must come to an end." The firm further drumed for plaintiffs by stating:
Victims of the derailment can bring claims against Amtrak for economic damages, including: past and future medical bills reasonably expected to be incurred; past and future lost wages; property damage; past and future emotional distress; past and future pain and suffering, among other damages. Punitive damages can also be assessed.
The firm further pointed out that federal law limits Amtrak's liability to $200 million for any single incident.
The engineer's recorded comment about the "over speed condition" was caught on a system which captures video and audio in locomotive cabs. Most Amtrak locomotives contain multiple cameras which face both out of the cab windows and back into the cab to record the motions and conversations of crew members. Event recorders are the railroad equivalent of an airplane's "black box."
Though the video captured movements consistent with a brake application, the engineer did not appear to put the train into emergency, the most severe form of braking available on a train, the NTSB said. The video ended with the crew bracing for impact as the locomotive began tilting as it derailed.
The NTSB noted that that the crew was not using personal cell phones leading up to the crash.
The track the train was traversing was new. A so-called "Positive Train Control" system, which would have automatically monitored the train's location and forced it to slow down as it approached and entered the curve, was not fully operational, officials have said. Federal regulators have demanded the system be installed on more U.S. track, but its implementation has been delayed for years.
[Image via ABC News screengrab]
[Editor's note:  This piece has been updated.]
Have a tip we should know? [email protected]
Aaron Keller - Deputy Editor-in-Chief