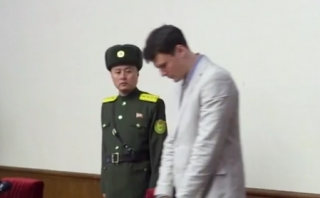 Secretary of State Rex Tillerson announced Tuesday morning that North Korea has released Otto Warmbier, the American college student who had been sentenced to 15 years of hard labor for supposedly stealing a sign last year, The Associated Press reported. Warmbier was sentenced in early 2016 after a one-hour trial. North Korean state media had previously released a bizarre video of Warmbier's apparent confession, where he tearfully apologized for the crime. He is expected to return home on Tuesday.
Warmbier's parents told The Washington Post that Warmbier is currently in a coma, and was medically evacuated. The Post reported that Warmbier has been in a coma for more than a year since soon after his sentencing in March 2016. Warmbier's parents said they were told that their son developed a case of botulism soon after his trial, and was given a sleeping pill. He never woke up, they said.
"At the moment, we're just treating this like he's been in an accident," Otto's father Fred Warmbier said to the Post on Tuesday. "We get to see our son Otto tonight."
North Korea had accused Warmbier of acting on behalf of the CIA, a secret society at University of Virginia who denied ever having ties to him, and an Ohio church that said he wasn't even a member.
Tillerson said that the State Department arranged for Warmbier's release at President Donald Trump's direction, and that they were looking to bring back three other Americans currently being held in North Korea.
This comes as former NBA star Dennis Rodman, known to be on good terms with North Korean leader Kim Jong-un, is on his way to North Korea. It's unclear whether Rodman's visit has anything to do with Warmbier's release.
Have a tip we should know? [email protected]