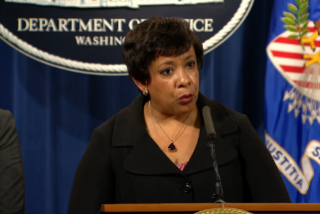 Update 5/9/2016 4:20pm: U.S. Attorney General Loretta Lynch addressed North Carolina and its controversial law at a press conference Monday afternoon. Lynch referred to HB2 as "state-sponsored discrimination" against the LGBT community. She announced that the Department of Justice is filing a lawsuit against North Carolina seeking a court order declaring HB2 "impermissibly discriminatory" and a bar on enforcing the law. The claims in DOJ's lawsuit are being made under the Civil Rights Act, Title IX, and the Violence Against Women Act, and may seek to curtail federal funding from the state and the University of North Carolina.
Lynch compared anti-LGBT legislation to the Jim Crow laws that targeted blacks after the Emancipation Proclamation. "State-sanctioned discrimination never looks good and never works in hindsight," Lynch said. "Let us write a different story this time."
Update 5/9/2016 1:20pm: At a press conference, McCrory said that he asked for an additional two weeks to respond to the DOJ's letter, and that they refused, unless he issued a statement saying he agreed with their interpretation of the law, and even then he would only get one week.
McCrory said he refused to do so because he disagrees with their view. He stated that he believes that the federal government is going too far in imposing their interpretation of the law, and that's why he filed the lawsuit. "We believe a court, rather than a federal agency should tell our state, our nation, and employers across the country what the law requires," he said.
---
Last week, the Department of Justice sent a letter to North Carolina Governor Pat McCrory saying that the state's controversial law HB2, commonly referred to as the bathroom law, violates the Civil Rights Act. The letter said that McCrory had until Monday to respond to the letter, and he certainly did just that. The state filed a lawsuit against the federal government on Monday, according to North Carolina's WNCN.
The lawsuit says that McCrory has directed state agencies to provide single-occupancy restrooms, as HB2 only applies to multiple-occupancy facilities. It also says that private companies are free to set their own rules.
In a statement, McCrory said, "I'm taking this initiative to ensure that North Carolina continues to receive federal funding until the courts resolve this issue." He is expected to address the media Monday afternoon.
[screengrab via CNN]
Have a tip we should know? [email protected]