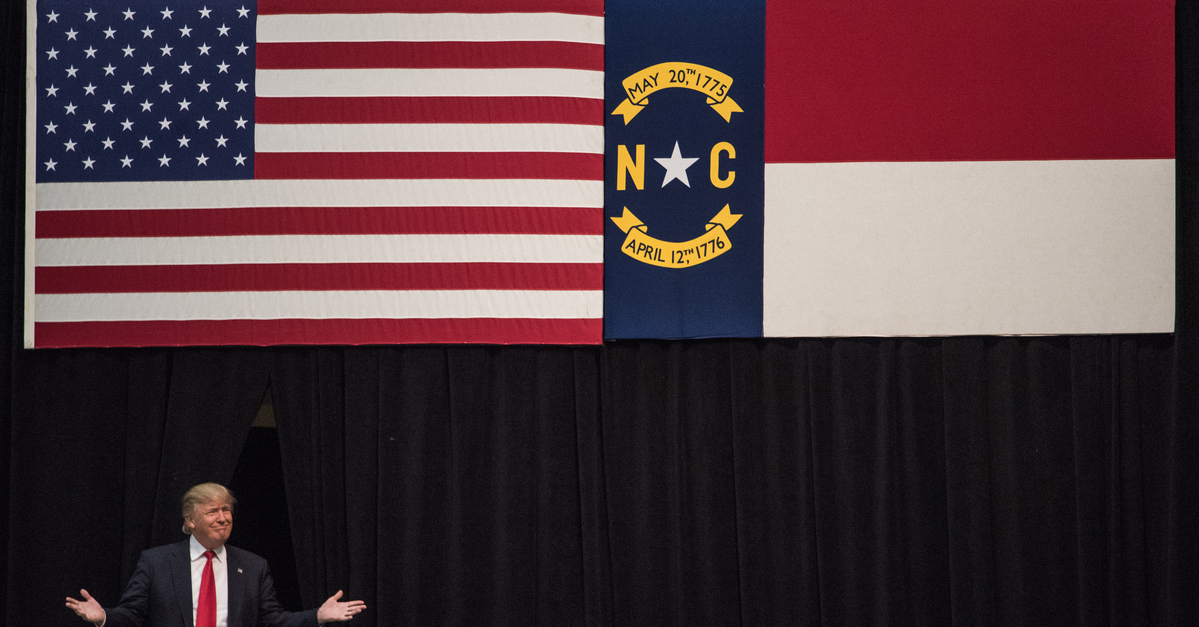 Elections have consequences. Unless you're the Republican Party of North Carolina?
GOP state legislators are currently scrambling to pass a lame-duck bill that would enshrine GOP control over county election boards and, observers allege, could effectively shutter an ongoing investigation into alleged GOP-engineered electoral fraud during the race for North Carolina's 9th U.S. Congressional District.
A fair bit of backstory is contextually necessary here: GOP candidate Mark Harris scored a razor-thin election night victory over Democrat Dan McCready during the 2018 midterm elections. County and state election boards, however, have refused to certify a winner in that race because of serious electoral fraud concerns that have recently become something of a national scandal.
As Law&Crime previously reported:
Bi-partisan officials in North Carolina refuse to certify election results for a hotly contested U.S. congressional district after discovering what was alleged to be a coordinated effort by Republican Party staff to disenfranchise Democratic Party voters by intentionally destroying and altering their absentee ballots.
Regardless of whether or not such ballots were actually altered or destroyed, several paid Harris campaign employees have admitted to collecting absentee ballots from voters–in violation of North Carolina election law which mandates that only voters themselves or designated relatives may collect absentee ballots.
An investigation by North Carolina's State Board of Elections and Ethics Reform (NCSBE) has been in effect since last week. In a statement to the press, the NCSBE sought to make clear that their investigation is focused on electoral fraud–not "voter fraud."
Bladen County District Attorney Jon David announced on Tuesday that a pre-existing investigation into the Harris campaign's allegedly similar antics during the 2016 election would expand to include this year's allegations as well. Also on Tuesday, Wake County District Attorney Lorrin Freeman announced essentially the same.
Now back to that lame-duck legislation.
Republicans in North Carolina's General Assembly introduced House Bill 1117 (H1117) on Monday. This proposed law self-professedly aims to "restructure election admin[istration]."
Observers and experts immediately cried foul–noting that it appears the bill is expressly aimed at frustrating the Ninth Congressional District inquiry.
Democratic Party election lawyer Marc Elias offers a typical example:
URGENT: The North Carolina GOP now has a bill that appears aimed at obstructing a fair investigation of the NC-9 election fraud scandal. This must not pass. If it does, Democrats should announce they won't seat Harris, period. https://t.co/UIIiEhAvGr

— Marc E. Elias (@marceelias) December 4, 2018
Former Obama White House lawyer Daniel Jacobson also called out Tar Heel State Republicans on Twitter for the perceived power-grab.
"The NC GOP is trying to rush through a law that would REQUIRE every county elections board in NC to be chaired by a Republican in election years," he said."These guys just can't stop trying to rig elections."
Here's the language that has people incensed:
In the even-numbered year, the chair shall be a member of the political party with the second highest number of registered affiliates as reflected by the latest registration statistics published by the State Board.
This is a fairly obvious attempt to ensure that Republicans always control county election boards of during election years. Why? Because registered Democrats consistently–and by leaps and bounds–outnumber registered Republicans in North Carolina–and there's no indication party affiliation numbers would change to favor Republicans any time soon.
In fact, Democrats have such a massive registration advantage over their GOP counterparts that "unaffiliated" voters are actually the second largest grouping of voters in North Carolina. But since the proposed law specifies "political party," this effectively means the GOP would always control county election boards during the years when federal elections occur.
Additional language in the proposed bill does give Democrats a consolation prize of sorts, offering the "political party with the highest number of registered affiliates" control of county elections boards in odd-numbered years–that, of course, would limit Democratic Party-controlled election boards to overseeing municipal and city-wide elections.
[image via Sean Rayford/Getty Images]
Follow Colin Kalmbacher on Twitter: @colinkalmbacher
Have a tip we should know? [email protected]