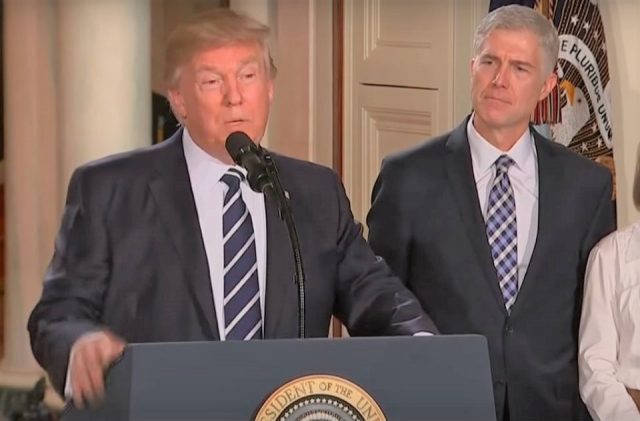 As offensive, unprecedented, and inappropriate as President Donald Trump's reprehensible attacks on sitting federal judges are, Supreme Court Nominee Neil Gorsuch would be very unwise to weigh in any further against Trump on a personal level.
On Wednesday, after a meeting with lawmakers, Sen. Richard Blumenthal of Connecticut disclosed that Judge Gorsuch apparently called Trump's attack on the 9th Circuit judges, and district judge James Robart "disheartening" and "demoralizing." Despite Trump claiming on Twitter that Gorsuch's words were twisted by Blumenthal, Gorsuch's spokesperson (didn't know judges had spokespeople) seemed to have confirmed the comments. And now Democrats (and heck, even some Republicans) are urging Gorsuch to publicly come out against Trump's attack on the judiciary. "He needs to publicly condemn the President," Blumenthal said on CNN Thursday morning.  They are specifically hoping Gorsuch will go after the President during his upcoming confirmation hearing. In fact, Sen. Chuck Schumer said it would be a " a big game changer" if Gorsuch would weigh in on Trump's travel ban.
But, as great as it would be to see a Trump nominee blast the guy who nominated him, that's a really bad idea for Gorsuch, and would even further undermine his position on the Supreme Court, where he is supposed to stay as far removed from politics as possible.  Inevitably during his upcoming confirmation hearing, Democrats will grill Gorsuch about the tweets.   Instead, Gorsuch needs to rise above Trump's childish temper tantrums and instead simply and professionally re-affirm his belief in an independent judiciary.
"I think at the most,  he would re-affirm his general thoughts and sentiment about an independent judiciary, I would expect him to be reluctant to engage in a personal exchange with the president," Professor Louis J. Virelli III of Stetson University College of Law commented. Virelli is a Supreme Court recusal expert, and  author of Disqualifying the High Court: Supreme Court Recusal and the Constitution. 
"He's not going to be inclined to either address the president tweets directly or the status of the case directly," Virelli told LawNewz.com.
That's because, in general, Judges should not weigh in on politics. 
Remember earlier this year when Justice Ruth Bader Ginsburg was absolutely torn apart for making political statements about Donald Trump?  You'll recall back in July when she stated, "I can't imagine what this place would be—I can't imagine what the country would be—with Donald Trump as our president." Legal ethics types had a field day.  The Code of Conduct for U.S. federal judges specifically prohibits judges from engaging in political activity by endorsing a candidate. While the rules don't apply to Supreme Court justices, the underlying ethical implications were serious enough to raise eyebrows.
"I find it baffling actually that she says these things," Arthur Hellman, a law professor at the University of Pittsburgh who studies the judiciary told The Washington Post. "She must know that she shouldn't be. However tempted she might be, she shouldn't be doing it."
Louis J. Virelli, said at the time, "public comments like the ones that Justice Ginsburg made could be seen as grounds for her to recuse herself from cases involving a future Trump administration."
At this point, unlike Ginsburg, Gorsuch has wisely refrained from making any of his comments before the television cameras. In fact, it's still not clear exactly what he said behind closed doors. And this is a good thing.
But Gorsuch needs to be careful moving forward because the case that Trump is talking/tweeting about could end up before the U.S. Supreme Court.
During a gathering of law enforcement officials on Wednesday, Trump blasted the Ninth Circuit judges who grilled a Justice Department lawyer regarding Trump's travel ban during oral arguments on Tuesday. "They were talking about things that just had nothing to do with this," the President said during his speech.   This case could very well come before the Supreme Court when Gorsuch is there. Some are even urging Gorsuch to weigh in — saying that it is imperative that the public know where he stands on the ban. But under the Code of Conduct for U.S. Judges,"a judge should not make public comment on the merits of a matter pending or impending in any court."
With that said, NYU legal ethics Professor Stephen Gillers told LawNewz.com, "nothing prevents a federal judge from identifying the threat to separation of powers and to the public's confidence in the courts that Trump's intemperate language presents. Gorsuch's view on this issue is especially of interest now because the Senate has to evaluate his qualifications for the Supreme Court."
Bottom line: Gorsuch should tread lightly on this issue. If he goes too far with his public comments, he could get himself into a sticky situation. At the same time, it is imperative that he assure Senators — and the American public — that he clearly understands the importance of an independent judiciary.
Gorsuch said it best in an earlier judicial opinion:
"The framers lived in an age when judges had to curry favor with the crown in order to secure their tenure and salary and their decisions not infrequently followed their interests. Indeed, the framers cited this problem as among the leading reasons for their declaration of independence. … To this day, one of the surest proofs any nation enjoys an independent judiciary must be that the government can and does lose in litigation before its 'own' courts like anyone else."
Let's keep the personal attacks out of it, and rise above all of this ridiculousness.
This is an opinion piece. The views expressed in this article are those of just the author.
Rachel Stockman - President / On Air Host