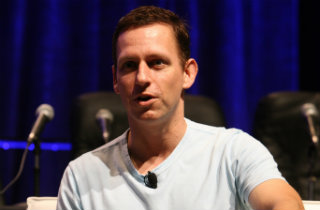 On Tuesday, Y Combinator, a company that helps develop technology startups, held the second day of their Summer 2016 demonstrations. One of the startups companies is of particular interest to LawNewz readers and the general conversation about Peter Thiel's funding of Hulk Hogan's lawsuit against Gawker: Legalist, company that has developed an algorithm to help it find the right lawsuits to invest in for a sizable return. According to TechCrunch, Eva Shang, the CEO of Legalist, is acutely aware of the mental connection to "Thielgate," telling those in attendance that the startup's objective is "not Peter Thiel funding Hulk Hogan." Interestingly, Shang said this after receiving one of this year's Thiel Fellowships which includes $100,000 spread over two years as well as support services that Thiel gives to entrepreneurs
Legalist is all about determining the outcome of a case. They accomplish this by using their algorithm, which tracks cases going back to 1989, using 58 different variables to determine if a given lawsuit will succeed, how long it will take, how much the judgment or settlement will be, and so on.  Legalist was not promoting this as the company's business model even as recently as a month ago.
There are various articles from July about Legalist using its database strictly as, well, a database, marketing to lawyers (and to some extent, journalists) who need easier access to state and county court records. An April article and a March 13th archive of their website promote the brand as a lawyer rating service.   The press release for the Thiel Fellowship just lists Legalist as a legal analytics company, which is the tech at the heart of whatever services they settle on offering.
Obviously, it looks curious, but there's no way to know if Thiel had any direct influence on the switch to litigation finance a few weeks ago. It's entirely possibly he could have an indirect one, as well: The reporting on his funding of Hogan's legal bills and other lawsuits against Gawker introduced the concept of litigation financing to a whole lot of people who weren't already familiar with it. If you're running a legal analytics comany and were considering leveraging your technology towards litigation finance, now is a good time as any. Even if that's not it, then, at bare minimum, it's a really interesting coincidence.
That said: Shang explained to Business Insider that Legalist is focusing strictly on business related cases and not personal injury lawsuits. "That's why litigation financing has had such a bad name before," she told them.
Well, that's not the *only* reason…
An email asking a representative for Thiel  if he had any direct influence on Legalist's change of direction had not been returned as of this writing. LawNewz will update this article if we get any comment from them.
[Photo: WikiMedia Commons]
Have a tip we should know? [email protected]