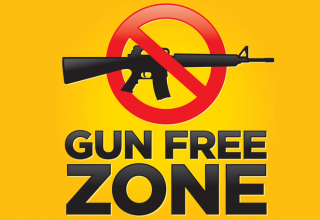 A new Tennessee law went into effect on July 1, aimed at protecting gun owners who leave their weapons behind to go to gun-free areas. Senate Bill 1736 added the statute, which deals with property where the land owner prohibits the possession of guns on the premises.
Existing Tennessee law allows the owners of certain properties to bar guns if they put up a posting declaring it. The new law says that an owner who chooses to do this "assumes absolute custodial responsibility for the safety and defense" of someone who has a gun carry permit who left their weapon behind to visit the property. It says that the owner is responsible for the gun permit holder while they are on the property, and when they are traveling to and from wherever they leave their gun.
The bill covers injuries that the visitor may suffer at the hands of "other invitees, trespassers, employees of the person or entity, vicious animals, wild animals, and defensible man-made and natural hazards," with a two-year statute of limitations from the date of the incident.
Signs indicating that guns are barred from the property must now also include language referencing this law and the owner's responsibility.
Have a tip we should know? [email protected]