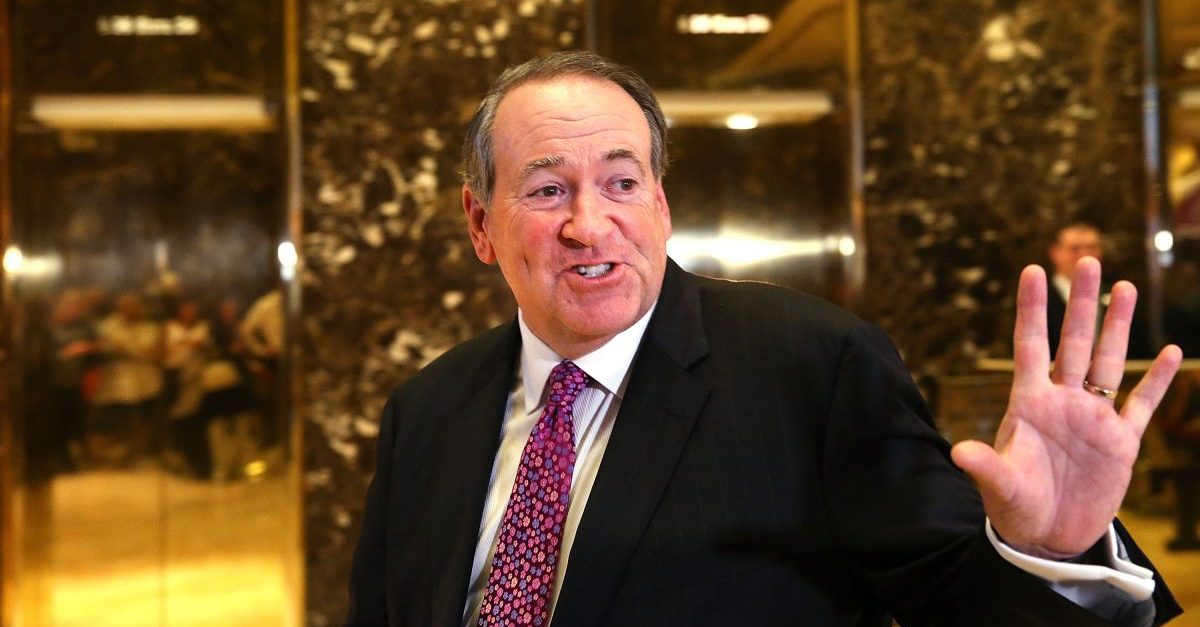 A recent revelation spinning out of former RNC finance chair Elliot Broidy's lawsuit against the State of Qatar shows that the small mid-east nation paid a hefty sum to former Arkansas Governor Mike Huckabee through a New York man who was secretly operating as a Qatari agent.
This information came out as Broidy has been seeking information via subpoena from Joseph Allaham, a Manhattan restaurateur whom he accused of working with Qatar without registering as a foreign agent. On Friday, Allaham filed a retroactive registration with the U.S. Justice Department detailing his work for Qatar through his company, Lexington Strategies, LLC. Allaham stated that as part of his arrangement, Qatar paid him $1.45 million, and he in turn disbursed several payments in connection with his work for Qatar.
One of those recipients was Blue Diamond Horizons, Inc., a company run by Huckabee, and Allaham's filing says the money was an "honorarium" for a visit. Indeed, Huckabee tweeted in January that he went to Qatar, praising the country as "surprisingly beautiful, modern, and hospitable."
Just back from a few days in surprisingly beautiful, modern, and hospitable Doha, Qatar I will appear on @FoxNews at 9am ET and @Varneyco on @FoxBusiness at 8:45 to bring Fancy Nancy some "crumbs" to sprinkle on her caviar topped @FiveGuys burger.

— Gov. Mike Huckabee (@GovMikeHuckabee) January 12, 2018
This lines up with Broidy's allegations that Qatar had been engaging in a public relations campaign to improve their image, specifically targeting pro-Israel figures and using Americans like Allaham as agents. Huckabee is a staunch supporter of the Jewish state, and others who reportedly accepted invitations to Qatar include Alan Dershowitz and Zionist Organization of America president Morton Klein. Allaham's filing also mentions payments to the ZOA. Allaham himself is a Syrian Jew who owned several high-end kosher restaurants in New York City.
While Allaham admits to working with the country in the past, he recently denounced Qatar, saying, "Qatar enjoys portraying themselves as the purveyor of peace in the region, but this could not be further from the truth."
Broidy's lawsuit alleges that Qatar orchestrated a cyberattack on him, hacking his emails, which were leaked to the media. An associate of President Donald Trump, he claims the country went after him because he spoke out against them while they were trying to gain goodwill with the Trump administration.
[Image via Spencer Platt/Getty Images]
Have a tip we should know? [email protected]