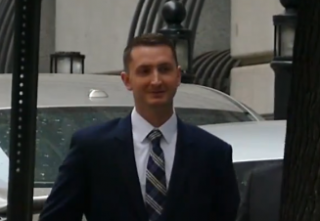 Monday morning, Judge Barry Williams found Officer Edward Nero not guilty of all charges related to the arrest and subsequent death of Freddie Gray, who suffered injuries while being transported in a police vehicle in handcuffs and without a seat-belt. Judge Williams said that Officer Nero's actions were what a reasonable officer would have done, the Baltimore Sun reported.
But Nero's attorney, Marc Zayon, wasn't content with just the acquittal of his client. After Judge Williams announced the verdict, Zayon said, "The State's Attorney for Baltimore City rushed to charge him, as well as the other five officers, completely disregarding the facts of the case and the applicable law," adding "these officers have done nothing wrong."
The other officers still have to stand trial.  During Officer Nero's trial, fellow officers testified that Nero was not the one who arrested Gray, and while he helped load him into the police vehicle, it was the responsibility of  of the driver to make sure passengers are buckled in. Attorneys argued that Nero, who patrols on bicycle, was following his training, and Judge Williams agreed he did nothing wrong.
Remember, though, that the evidence and opinions in this case are specific to Officer Nero. While it may very well come out in the future trials that the officers indeed acted reasonably and were not guilty of a crime, the fact remains that Freddie Gray suffered fatal injuries while in custody, and it will be up to the court to determine what happened. Officer Caesar Goodson Jr.'s trial is up next, and is scheduled to begin on June 6.
Have a tip we should know? [email protected]