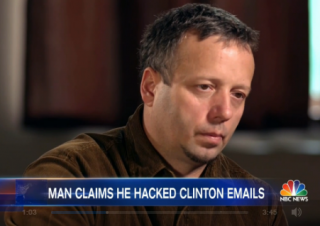 Guccifer, whose real name is Marcel Lehel Lazar, will appear in a Virginia Courtroom on Wednesday to enter a change of plea in his case. Lazar was the hacker who first exposed Hillary Clinton's use of a private email server. He was extradited to the United States in late March.  Lazar was believed to have posted emails that were sent to then-Secretary of State Clinton, including correspondence from close Clinton advisor Sidney Blumenthal.
Lazar was brought to the United States, just as reports indicate that the FBI investigation into Clinton's email server was in in full swing. Lazar is facing charges including wire fraud, cyberstalking, identify theft, unauthorized access to computers and obstruction of justice. In an interview with both NBC and Fox News, Lazar said he had "easily" breached Clinton's email server. Lazar had previously entered a not guilty plea. However, the court docket now indicates that Lazar may have come to some kind of plea agreement with the feds. Lazar is reportedly cooperating with the FBI as they work to determine if any laws were broken when Hillary Clinton set up a private unsecured email server. A jury trial for Lazar had been scheduled to begin in September.
"There is absolutely no basis to believe the claims made by this criminal from his prison cell," Brian Fallon, Hillary Clinton's campaign press spokesperson, said following the Guccifer interviews. Lazar's plea hearing is set for 10:30 a.m. on Wednesday in an Alexandria, Virginia courtroom. As far as we know, Lazar is not facing any charges as it relates to allegedly hacking Clinton's server. Stay with LawNewz.com for any updates on the case.
Have a tip we should know? [email protected]
Rachel Stockman - Editor in Chief / On Air Host