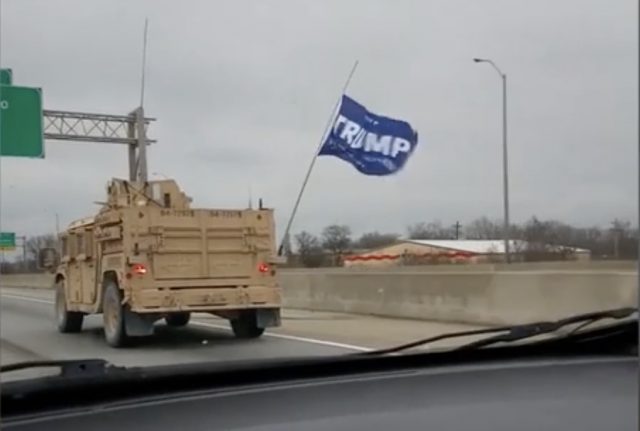 A Naval Special Warefare Unit based in Virginia Beach, VA has been formally punished after a convey of vehicles (possibly from SEAL Team 2) were spotted by motorists driving through Louisville last month with some of the vehicles flying Donald Trump flags.
According to a local newspaper, an investigation was conducted by the unit commander and it found the flags "violated the spirit and intent of applicable DoD regulations concerning the flying of flags and the apparent endorsement of political activities," according to a statement issued by Lt. Jacqui Maxwell of the Naval Special Warfare Group 2, located in Virginia Beach, Virginia, to the Courier Post newspaper. Maxwell added "administrative measures" were taken against certain members of the unit, but she did not elaborate on specific punishments.
Military regulations encourage personnel to avoid giving the impression of Defense Department (DOD) endorsement of any candidates and/or political causes.
Jack Murphy, a former member of 5th Group Army Special Forces and the Ranger Regiment, who now serves as the editor in chief of SOFREP.com  told LawNewz the regulations may "sound a bit silly at time, but the rules are in place for a reason because the military is a nonpartisan fighting force that serves Commanders in Chief from both political parties."
Murphy described how when he was in the service, members of his unit could not even place bumper stickers on their personal vehicles if they arguably contained a political message.
He said the reason for the rule goes back to the belief in the U.S. that the military truly is not supposed to be partisan.
[image via screengrab]
Have a tip we should know? [email protected]