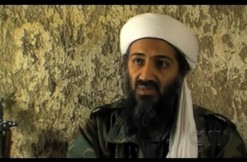 Matt Bissonnette, formerly of the Navy's prestigious SEAL Team Six, wrote a 2012 book about the raid that snuffed al-Qaeda founder and 9/11 mastermind Osama bin Laden. By his own admission, that was a huge mistake.
The New York Times reports that, according to documents filed Friday in federal court, he must now transfer the royalties earned from his memoir No Easy Day (written under the pseudonym "Mark Owen"), and $100,000 for six speeches he gave in 2013 before the government okayed the slides he used. That amounts to $6.8 million.
His attorney Robert D. Luskin told The Times he gave up another $180,000 in May. These were consulting fees he got while on the SEAL team. In exchange, the feds provided a "nonprosecution agreement."
Bissonnette sent a statement to the Times, where he blamed his bad decision on another lawyer. This person apparently said he didn't need to let the Pentagon review the book for classified information.
"I acknowledge my mistake and have paid a stiff price, both personally and financially, for that error," he said. "I accept responsibility for failing to submit the book for review and apologize sincerely for my oversight."
The decision to make money from his story has earned him public criticism from some other SEALs.
The raid that killed Osama bin Laden happened May 2, 2011 in Abbottabad, Pakistan, led by SEAL Team Six. Another member of the unit, Robert O'Neill, has publicly claimed he's the one who personally snuffed the terrorist mastermind.
[Screengrab of bin Laden via CNN]
–
Follow Alberto Luperon on Twitter (@Alberto Luperon)
Have a tip we should know? [email protected]