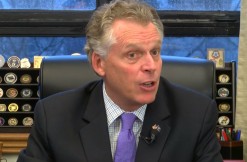 At this point, it's an old story that Virginia Governor Terry McAuliffe wants to give felons back their voting rights. He announced a change in tactics in July after state judges squashed his executive orders restoring suffrage to about 200,000 people. It seems like he's about to follow through.
Laura Vozzella of The Washington Post pointed out that there's been an interesting change in the governor's calendar. He'll attend an event this Monday, noon, at the Civil Rights Memorial on Capital Square Grounds. It's called, "Governor McAuliffe to make major restoration of rights announcement."
His office is being coy for now. McAuliffe spokeswoman Christina Nuckols declined comment to the Post. We've reached out to another press official, Brian Coy, and we'll update in case they decide to share more details.
WHATEVER COULD THAT EVENT BE ABOUT? HMMMMMM. A MYSTERY!
In all seriousness, though, the real question is how McAuliffe will get this done.
His goal has been politically charged from the get-go. A Democrat, he signed his original executive order in April. This quickly attracted criticism from state Republicans like GOP party chair John Whitbeck. They claimed he was just trying to get more votes, so one of them, Virginia House Speaker William J. Howell, filed the aforementioned lawsuit.
McAuliffe made this promise right after he lost the court battle in July:
The men and women whose voting rights were restored by my executive action should not be alarmed. I will expeditiously sign nearly 13,000 individual orders to restore the fundamental rights of the citizens who have had their rights restored and registered to vote. And I will continue to sign orders until I have completed restoration for all 200,000 Virginians.
Will all those individual orders actually be ready on Monday? Or will his tactics change once again?
Virginia is one of four states that institutes lifetime bans on felon voting rights. McAuliffe said such a policy disproportionately affects black people who have served their time behind bars.
[Screengrab via NBC 12]
–
Follow Alberto Luperon on Twitter (@Alberto Luperon)
Have a tip we should know? [email protected]