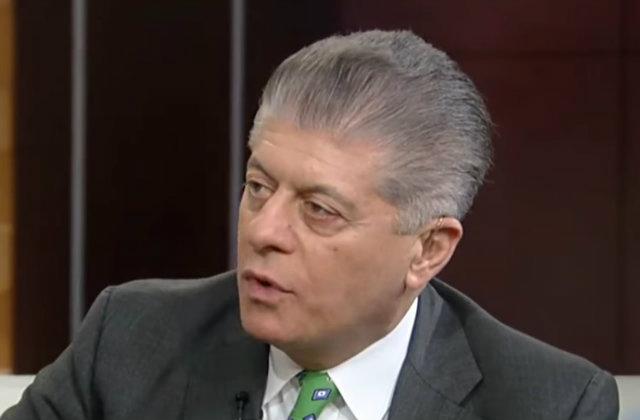 Think about it: Supreme Court Associate Justice Andrew Napolitano. Just let that idea settle for a moment.
The Fox News host claimed he got put on President Donald Trump's short list to replace the late Antonin Scalia, according to a POLITICO report.
"He said, 'Trump said I'm on the list,'" said a source who talked to Napolitano shortly after a pre-Inauguration Day meeting with Trump. "He's been saying that since the transition."
Reportedly, Napolitano talked to the then president-elect twice—once in December, and later in mid-January. This same source, however, apparently advised skepticism about the short list promise.
"'He'll take your call and invite you to the Oval Office, but he just wants you to say nice things about him on TV,'" the source claimed to have told Napolitano.
Nonetheless, the Fox News host reportedly sent academic and personal resumes to Trump aides, and he claimed that they seriously reviewed his writings. He was a sleeper candidate, the judge told his friends.
He has yet to respond to our request for comment.
But even if the source's claim holds out, Napolitano, at best, was likely never a front-runner for the job. Here's what an individual close to the White House reported told POLITICO: "The president already has a list of highly qualified contenders for future SCOTUS openings, and Judge Napolitano is not on it."
Indeed, the former New Jersey Superior Court judge and law professor never showed up on the publicly reported short list. That list, ever shifting since it first went public in May, included quite a few working state and federal judges.
Trump finally chose Tenth Circuit appellate judge Neil Gorsuch, who just wrapped up his confirmation hearing.
A nomination for Judge Napolitano would've been nice, though, since his future employment remains uncertain. After Trump claimed in a March 4 tweet that his predecessor "wiretapped" Trump Tower, but didn't cite his source. The President later used a Napolitano report to bolster the allegation.
The Fox News host had claimed on March 14 that according to three intelligence sources, British intel performed surveillance on then-candidate Trump on President Obama's behalf. Fox News reportedly pulled Napolitano from future programming because of the unsubstantiated allegation. A spokesperson denied that they suspended him.
[Screengrab via Fox News]
Have a tip we should know? [email protected]