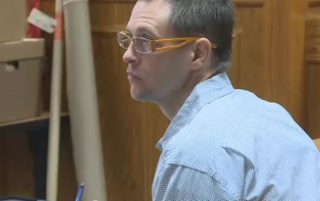 After deliberating since Friday afternoon, a jury in Marathon County, Wisconsin has found Kristopher Torgerson guilty of intentionally killing 22-year-old Stephanie Low in 2010 and hiding a corpse. The Wisconsin woman was missing for years before her remains were found in 2014, and Torgerson was the one who led authorities to Low's body. Torgerson was believed to be at Low's home looking for drugs, and Low and her boyfriend were known to sell cocaine.
The prosecution presented nearly 40 witnesses, compared to only four for the defense. Prosecutors called a number of people associated with Low, including her mother, Claudia Blake, who said that Low was in the process of getting her life back on track at the time she vanished, with plans to go to school. Also testifying for the prosecution were two people who said they assisted Torgerson in disposing of Low's body, Richard Hawkins and Torgerson's then-girlfriend, Andrea Wadinski. Wadinski said on the stand that she led Torgerson to her mother's cabin, where the body was buried, but admitted to not being truthful with officers early in the investigation because she was supposedly afraid of Torgerson.
Hawkins described how he was with Torgerson at Low's home and saw what he believed to be a dead body. He testified that he helped Torgerson load the body into a vehicle, and then drove with him to get a shovel, and then met up with Wadinski at the cabin, where they buried the body. He's also changed his story over the years. Lt. William Kolb, who testified for the defense, acknowledged that Hawkins had previously told him that he was in the car with Torgerson, but didn't know anything about a dead body at the time.
Have a tip we should know? [email protected]