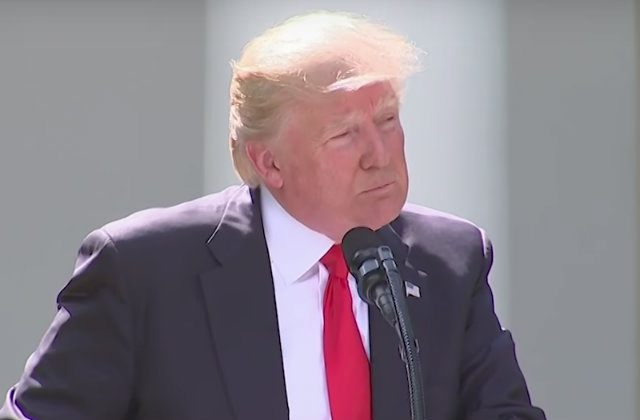 The National Association For The Advancement of Colored People sued the Trump administration Monday on behalf of people of color after the president's repeal of the Deferred Action for Childhood Arrivals. The organization says that about 95 percent of DACA registrants are people of color from Africa, the Caribbean, Central and South America, East Asia and Southeast Asia, and the Middle East.
"The Trump Administration announced this rescission without regard to the Due Process rights of the DACA registrants, and without engaging in the required analysis or rulemaking procedures required by the Regulatory Flexibility Act and the Administrative Procedure Act, both of which were enacted to safeguard against government action taken without a legitimate and reasoned basis," said the complaint filed in a DC federal court.
Plaintiffs argue the repeal violates the rights of immigrants who supplied their personal information to the government, believing they'd be safe from being kicked out of the United States.
Attorney General Jeff Sessions announced the DACA repeal on Sept. 5. The policy, started in 2012 by President Barack Obama, was designed to protect undocumented immigrants who came to the states as minors. It shield almost 800,000 people from getting deported. Critics, usually conservative politicians like Sessions, attacked it, and argued it was unconstitutional for POTUS for make immigration policy. That power belongs to Congress, they say. Ironically enough, plaintiffs in Monday's lawsuit argue the repeal was unconstitutional for violating the immigrants' rights.
The complaints names President Donald Trump, Sessions, Acting Secretary of Homeland Security Elaine C. Duke and several federal agencies as defendants.
"It was the previous administration's arbitrary circumvention of Congress that got us to this point," DOJ Media Affairs Coordinator Devin M. O'Malley told Law Newz in an emailed statement. "The Department of Justice looks forward to defending this Administration's position and restoring respect for the rule of law."
The DHS declined to talk about the lawsuit, however.
"As a matter of policy, we do not comment on pending litigation," Deputy Press Secretary Tyler Q. Houlton told Law Newz in an email. We also reached out to the White House for comment, but they did not reply by press time.
Update – Sept 18, 5:39 p.m.: We added the statement from the DOJ.
[Screengrab via NAACP]
Have a tip we should know? [email protected]