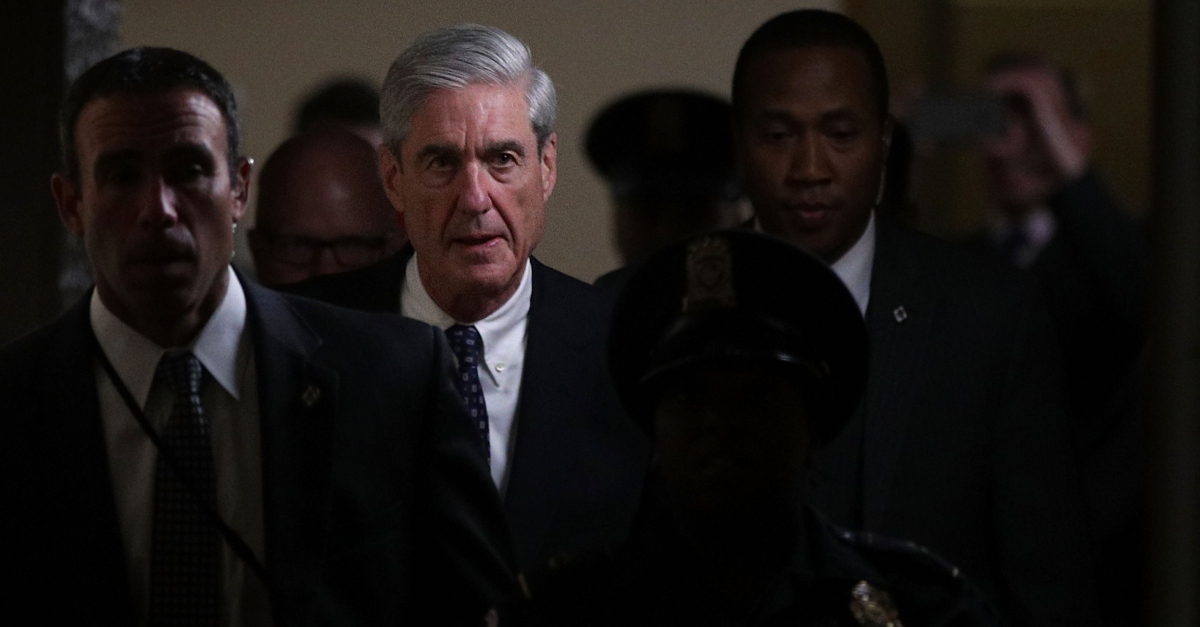 Special counsel Robert Mueller signaled that we would soon see his proof that Paul Manafort knowingly and intentionally "lied repeatedly" in breach of a cooperation agreement. The docket shows that U.S. District Judge Amy Berman Jackson on Tuesday afternoon said that Mueller asked to file under seal.
The judge ordered the redacted version of the document to be released shortly, and it has been. You can read the full document below. It had an FBI special agent's name signed at the bottom.
Mueller Defends Manafort Br… by on Scribd
Manafort's attorneys previously argued that Mueller does not have proof that he "intentionally lied," while also saying Manafort would not be requesting a hearing on the issue of the breached agreement.
Mueller, on the other hand, said he was was prepared to prove that the "lies" Manafort told were not a case of misremembering. Mueller has said that Manafort "told multiple discernible lies" that "were not instances of mere memory lapses."
"If the defendant contends the government has not acted in good faith, the government is available to prove the false statements at a hearing," he added. Much of Mueller's proof has been redacted. Mueller sought to file this document with redactions and did so successfully. Manafort's attorneys recently attempted to redact some sentences of their own, but that didn't go as planned.
Mueller has separately gone into detail about Manafort's "lies."
Mueller said that Manafort breached his plea agreement in "numerous ways by lying to the FBI and Special Counsel's Office." The special counsel said that one of the "principal lies" related to Konstantin Kilimnik. If the name Konstantin Kilimnik sounds familiar, that's probably because it was mentioned almost in the same breath as the news the Manafort was hit with witness tampering charges. Back in June, Mueller issued a superseding indictment, adding obstruction of justice and conspiracy charges to a litany of lobbying and fraud offenses to Manafort's charges. It was then that Kilimnik was slapped for lobbying violations.
Manafort referred to Kilimnik as his "Russian brain" in the past. Kilimnik apparently "earn[ed] the title 'Manafort's Manafort.'"
Mueller said that Manafort lied about "interactions with Kilimnik" and lied about Kilimnik's "participation in court two of the superseding information [referred to above]" Mueller also said that Manafort lied about a "wire-transfer to a firm that was working for Manafort," lied about "information pertinent to another Department of Justice investigation" and lied about "his contact with Administration officials."
"The evidence demonstrates that Manafort lied about his contacts. The evidence demonstrates that Manafort had contacts with Administration officials. For instance, in a text exchange from May 26, 2018, Manafort authorized a person to speak with an Administration official on Manafort's behalf," Mueller continued.
Information Manafort's attorneys failed to redact revealed that Manafort was accused of lying about sharing 2016 Trump campaign poll data with Kilimnik, a man suspected of having ties to Russian intelligence. Team Manafort maintained that there was no lie. They said Manafort needed to "refresh" his memory.
"Issues and communications related to Ukrainian political events simply were not at the forefront of Mr. Manafort's mind during the period at issue and it is not surprising at all that Mr. Manafort was unable to recall specific details prior to having his recollection refreshed. The same is true with regard to the Government's allegation that Mr. Manafort lied about sharing polling data with Mr. Kilimnik related to the 2016 presidential campaign," they said.
[Image via Alex Wong/Getty Images]
Have a tip we should know? [email protected]