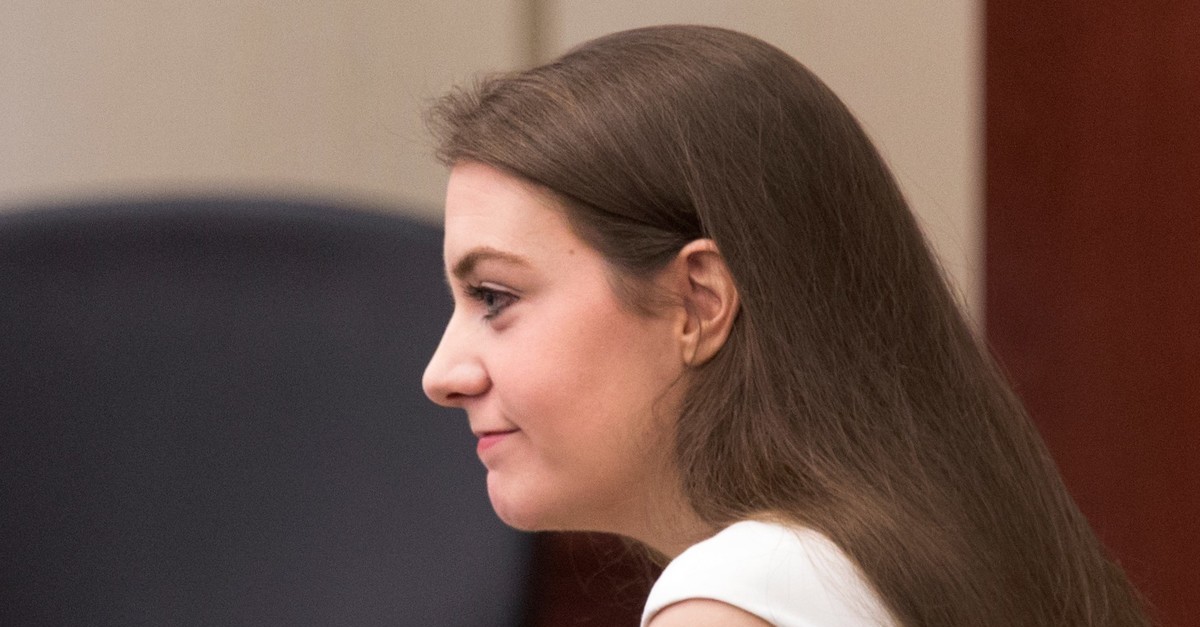 A Kentucky jury found Shayna Hubers guilty of murdering her boyfriend Ryan Poston  in August of last year. Now, she's filing for divorce from a woman she married while in jail awaiting retrial.
According to court records obtained by The Cincinnati Enquirer, Hubers filed her petition for divorce with the Campbell County Family Court on Monday.
Hubers married Unique Taylor last June–a transgender woman who is referred to by her birth name in the filing.
Hubers was originally convicted by a jury in 2015, but the initial verdict had to be thrown out because one of the jurors was found to have previously done time in prison. Under Kentucky law, convicted felons are not allowed to sit on juries.
A second jury re-convicted Hubers of murdering Poston at his condominium. Hubers allegedly killed Poston because he wanted to date other people.
As Law&Crime reported at the time, Poston's friends and relatives told jurors that he was trying to date Miss Ohio 2012 Audrey Bolte at the time of his death–and had failed to thoroughly break up with Hubers. One night when he was supposed to go out with Bolte–October 12, 2012–Hubers admittedly shot the lawyer six times and killed him.
Hubers had argued that she shot and killed Poston in self-defense during a fight, but the prosecution's theory prevailed–buoyed in part by a series of text messages in which Hubers allegedly planned to kill Poston and then claim it was an accident.
"I want to shoot him. I don't know why he keeps taking me on dates. I won't turn down learning how to shoot a gun," one message to a friend read. Just days before the killing, Hubers texted a friend with her intention to shoot Poston and "play like it's an accident."
Highland Heights Police Chief Bill Birkenhauer also cast doubt about Hubers story by noting that there were no signs of a struggle.
Hubers also failed to do herself any favors during a police interrogation when she mentioned that her occasional beaux had spoken of possibly getting rhinoplasty work done.
"I shot him in the face," Hubers told interrogators. "I gave him the nose job he wanted."
The day after being convicted for second time, the same jury sentenced Hubers to life in prison.
In between trials, Hubers found time to marry Taylor. But since then, the relationship became "irretrievably broken," according to court records.
[Image via Liz Dufour/The Cincinnati Enquirer/Court Pool Photographer]
Have a tip we should know? [email protected]