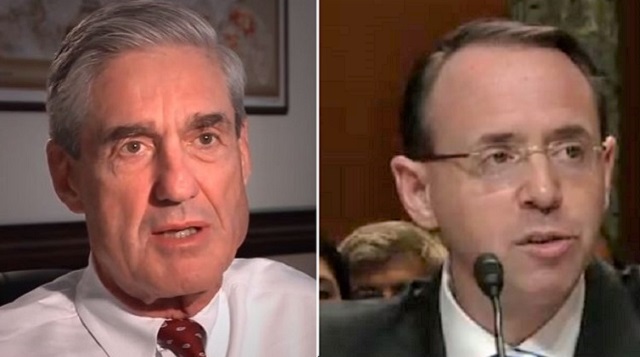 Last week, President Donald Trump tweeted that he's being investigated over the firing of former FBI Director James Comey. On Sunday, Trump's attorney insisted that this is not the case, and that the President was merely reacting to a Washington Post story that first reported about an investigation for obstruction of justice. Should the President be under investigation for firing Comey, however, either now or in the future, the investigation that began focusing on Russian ties to the Trump campaign and November's election could result in a shakeup.
If Comey's firing is truly being investigated, key figures in the investigation and the Justice Department may have to recuse themselves due to potential conflicts of interest, Professor Jonathan Turley wrote in a blog post. After all, despite Trump claiming that he was thinking about firing Comey for months, it was Rosenstein's memo recommending the move that he initially cited as a basis for his decision. If there is an investigation of the circumstances of Comey's firing, and the Deputy Attorney General (who is serving as Acting AG for the investigation due to Jeff Sessions' recusal) was instrumental in the firing, that sure looks like a conflict, Turley says. If special counsel Robert Mueller is investigating Trump for obstruction, Turley says, "Rosenstein should immediately recuse himself." Of course, as the professor points out, Rosenstein's recusal is not terribly pressing, since the appointment of a special counsel removed him from the investigation anyway. However, Rosenstein still has authority over Mueller.
Then there's the issue of Mueller, and the argument for his potential conflict is not what one might expect. Instead of focusing on Mueller's friendship with Comey, Professor Turley defends the special counsel's integrity, but questions whether he himself ever discussed Comey's firing with the President. Mueller was rumored to be up for the job of Comey's replacement (he was also his predecessor). "If Mueller discussed the Comey's termination with Trump as a candidate for the next FBI Director," Turley writes, "he might also be considered a witness in any obstruction investigation."
Should Rosenstein decide to recuse himself, Associate Attorney General Rachel Brand would take over for him as far as having authority over the special counsel, whether it continues to be Mueller or not.
Have a tip we should know? [email protected]