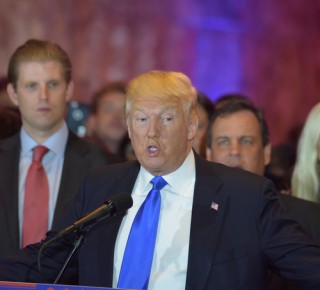 The issue of Donald Trump's taxes has reared its head again and is dominating the cable news talk cycle. Trump is remaining pretty steadfast though on his position. He says he will only release his tax returns when a federal audit is complete.  Plus, of course, there is really nothing to see, he claims.
Earlier this year, Trump released a letter from his attorneys  which says, "your personal tax returns have been under continuous examination by the Internal Revenue Service since 2002, consistent with the IRS's practice for large and complex businesses."
But, some (especially in the Twitter world) are not convinced. Is he really under audit? He told us he was but is it true? Give us the proof! And not just a letter for your attorneys.
@DylanByers what proof has Trump provided that his personal returns are under audit? Why not release IRS audit letter?

— Adam Quark (@AdamQuark) May 12, 2016
.@realDonaldTrump so release the IRS audit letter. BTW an audit doesn't prevent you from releasing them https://t.co/F5EswYIPPV

— Washington 4 Bernie (@WA4Bernie) May 11, 2016
I spoke with tax attorney Robert Kovacev over at Steptoe & Johnson (he deals with a lot of high net worth individuals) and he reminded me that the Donald would have received an IRS notification letter in the mail, telling him he is under audit.  And, in fact, it is pretty clear on the IRS's own website that a letter will always happen. The website says:
Should your account be selected for audit, you will be notified in two ways:

In the case of a telephone contact, the IRS will still send a letter confirming the audit. E-mail notification is not used by the IRS.
While it is true, many tax attorneys would advise their client not to release tax returns during an audit, that doesn't include this letter. Donald was certainly not shy about demanding that (then candidate) Barack Obama show his birth certificate. So put all the conspiracy theorists, and internet trollers to rest, show us your IRS letter!
Have a tip we should know? [email protected]
Rachel Stockman - President / On Air Host