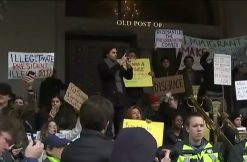 283 law professors and legal clinicians are joining the battle against President Donald Trump's travel ban. They argue this policy hurts thousands of law students and teachers, so they filed an amicus brief on Sunday in support of Washington State's federal lawsuit against the administration: The professors want the Ninth Circuit to uphold the temporary restraining order issued Friday by U.S. District Judge James Robart.
Citing data from the Department of Homeland Security, their brief states that over 24,000 students are affected by the travel ban.
"Since this number only includes students, not faculty, it actually underestimates the true number of individuals who are affected and who may be subjected to deportation if their nonimmigrant visas expired," they write. "Post-docs, medical residents, and faculty often work at United States universities with other types of nonimmigrant visas, such as J-1 visas for exchange visitors and H-1 visas for temporary workers."
Professors argue that such people would suffer irreparable harm because the ban complicates their ability to travel outside the U.S. out of fear they may not be let back in. All in all, they say the policy violates nonimmigrants' due process rights, the Immigration and Nationality Act, and the Administrative Procedure Act.
Like many opponents of the ban, they say it's motivated by anti-Muslim sentiment. They even cite a Jan. 28 Fox News interview with Rudy Giuliani, who said Trump approached him for how to legally do a "Muslim ban."
The president's executive order, issued Jan. 27, implemented a 90 day ban on citizens from seven Muslim-majority countries: Iran, Iraq, Libya, Somalia, Sudan, Syria, and Yemen. It also stops a refugee program for 120 days, indefinitely in the case of Syrians.
Back in December 2015, Trump called for an outright ban on Muslim immigration, but he has denied that this new policy is such a thing.
[Screengrab of a Washington D.C. protest via NBC]
Have a tip we should know? [email protected]