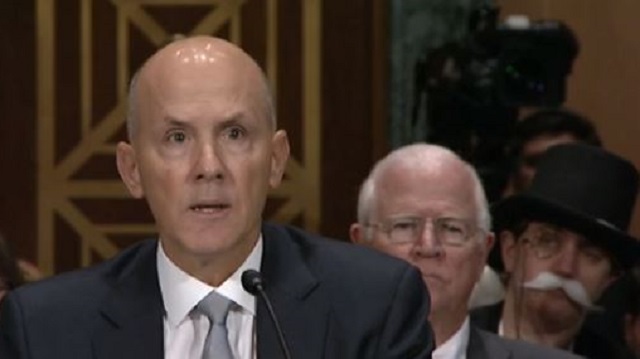 Equifax 's former CEO Richard Smith appeared before the Senate Banking Committee on Wednesday to testify regarding the hack his company faced, which affected more than 140 million people.
Anyone who watched video footage of the hearing, which was streaming live on the Committee's website, surely noticed a striking figure peering behind Smith, almost over his shoulder. Seated in the audience of the public hearing was someone dressed as none other than Uncle Pennybags, commonly known as The Monopoly Man. Complete with a black top hat, white mustache, and monocle, Pennybags watched as Smith discussed the cybersecurity breach of his company's database (or community chest, if you will).
Non-profit organization Public Citizen said they were the ones who sent the Monopoly Man to the hearing as a statement against Equifax's arbitration clause, which they say gives them "a monopoly over our justice system." Such clauses are meant to keep customers from being able to go through the court system with legal action.
Forced arbitration rip-off clauses give corporations like #Equifax more power than the Monopoly Man could have ever imagined. pic.twitter.com/R3pdT0KBOM

— Public Citizen (@Public_Citizen) October 4, 2017

Sen. Mark Warner also chastised Smith for the arbitration clause, as well as not taking necessary precautions to keep hacks like this from happening in the first place.
Smith retired from his position as CEO after the public learned of the hack.
[Image via screengrab]
Have a tip we should know? [email protected]