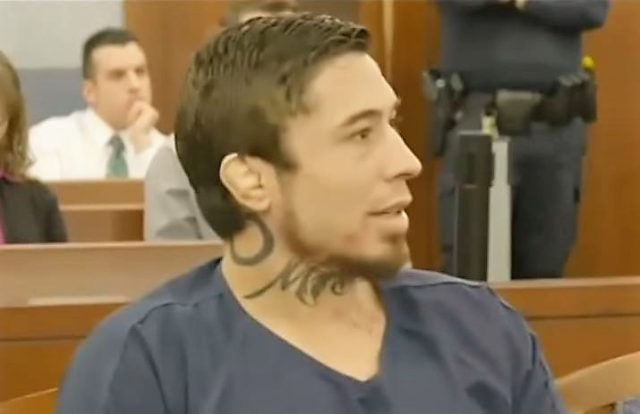 The mixed martial arts fighter formerly known as Jonathan Paul Koppenhaver, now going by the name War Machine, is set to face trial for the sexual assault and attempted murder of his ex-girlfriend, Christine Mackinday, a former porn star known as Christy Mack. War Machine is also facing charges for allegedly assaulting another man, Corey Thomas. Jury selection for the trial is set to begin Monday.
Mackinday alleges that in August 2014, War Machine entered her Las Vegas home while she was in bed with Thomas, and attacked him, choking and punching the man (two methods he has used to win professional fights). He then allegedly told Thomas to leave and not call police, and then War Machine allegedly turned his attention to Mackinday, after she had already called 911 and hid her phone. According to the criminal complaint, she told police that he then repeatedly punched and kicked her, before undressing her and forcing her to take a shower. Mackinday claims that War Machine said he was going to rape her, and licked his hand and touched her genitals. She says he stopped because he couldn't get an erection. She told police that he also threatened her by putting a knife to her head, and saying he would kill her.
Officers who interviewed Mackinday saw that she had substantial injuries to her face and body, including eyes that were swollen shut and broken teeth. She was taken to a hospital, where it was discovered that she also had a lacerated liver, among other injuries.
War Machine maintained his innocence, and posted on Twitter in the days following the attack.
I'm not a bad guy, I went to surprise my gf, help her set up her show and to give her an engagement ring and ended up fighting for my life.

— War Machine (@warmachine170) August 11, 2014
I only wish that man hadn't been there and that Christy & I would behappily engaged.I don't know y I'm so cursed.One day truth will come out

— War Machine (@warmachine170) August 11, 2014
His defense has argued that War Machine didn't rape Mackinday, and that she just liked rough sex. During a pre-trial hearing, Mackinday admitted that she had once asked War Machine to play out a rape fantasy of hers while they were dating, but it didn't happen. She clarified at the hearing, "I wouldn't want to have an actual rape happen."
The former Koppenhaver legally changed his name to War Machine in 2008, after a trademark dispute with Total Nonstop Action Wrestling, who was already referring to wrestler Rhino (real name Terri Gerin) as "The War Machine." Koppenhaver was competing in Ultimate Fighting Championship at the time, and they wouldn't announce him as "War Machine" after the wrestling company threatened UFC with legal action. He still answers to his birth name.
This isn't the first time War Machine has faced criminal charges. He pleaded guilty to felony assault after a fight outside a San Diego gym in 2007, and then faced misdemeanor assault charges for a brawl at a Las Vegas nightclub. He also has a domestic violence conviction from 2009.
War Machine faces up to life in prison without parole, and prosecutors say he has turned down two plea offers.
[Image via screengrab]
Have a tip we should know? [email protected]