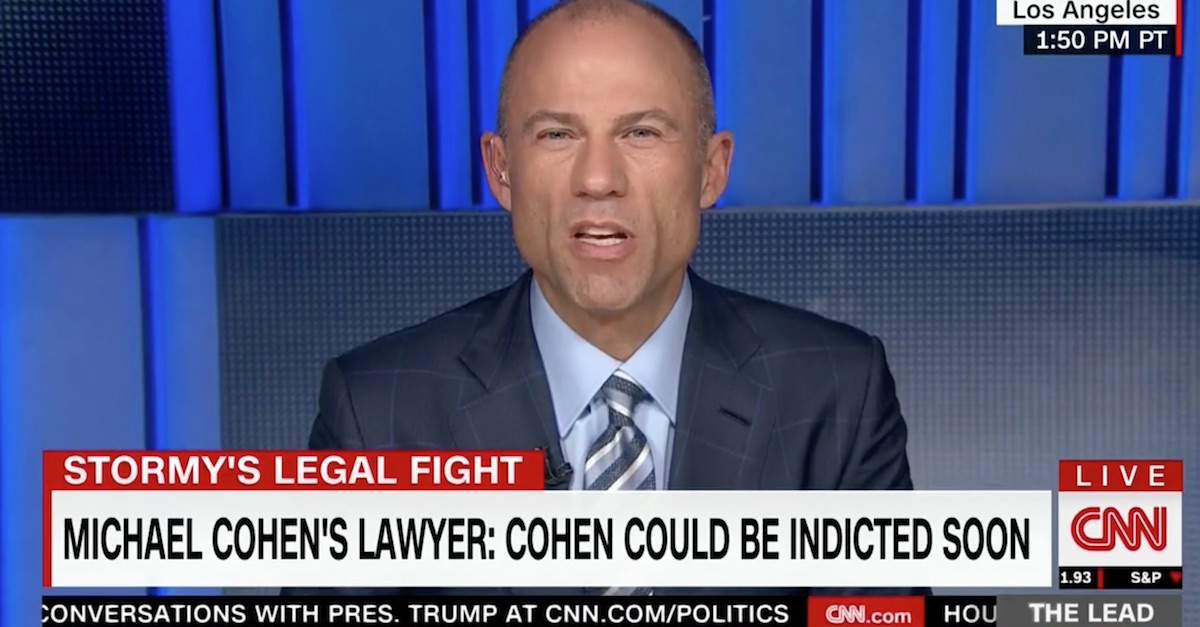 Stormy Daniels' attorney Michael Avenatti reacted to President Donald Trump's Saturday morning tweets, which expressed confidence that Michael Cohen will not flip, by saying that everything is unfolding as he's anticipated. He also stated Trump's comments might constitute obstruction.
In case you missed it, Trump lashed out at the New York Times and reporter Maggie Haberman, who responded to the president's criticism by saying "Here's the story that seems to have touched a nerve."
The story is "Michael Cohen Has Said He Would Take a Bullet for Trump. Maybe Not Anymore." It includes quotes from former Trump political adviser Roger Stone like "Donald goes out of his way to treat [Cohen] like garbage," and quotes from former Trump aide Sam Nunberg — whose TV tour has not been forgotten — like this one: "[W]henever anyone complains to me about Trump screwing them over, my reflexive response is that person has nothing to complain about compared to Michael."
He criticized the Times for using "non-existent 'sources' and a drunk/drugged up loser who hates Michael" to write the story and said "Most people will flip if the Government lets them out of trouble, even if it means lying or making up stories," but not Michael Cohen.
"Sorry, I don't see Michael doing that despite the horrible Witch Hunt and dishonest media!" the president said.
Law&Crime spoke with Avenatti on the phone Saturday about this and he reiterated what he said Saturday on Twitter and Friday on CNN that the presidential tirade shows panic is setting in, that Trump's beginning to realize what he's up against, and that the president will "resign by the end of his term."
Avenatti said the "heat will be so overwhelming" that resigning the presidency will be Trump's "only exit."
When asked if the president's tweets amounted to obstruction, Avenatti replied, "They possibly constitute obstruction." Avenatti wasn't the only one thinking along these lines.
Former assistant U.S. Attorney at the Southern District of New York (SDNY) and current legal analyst for CNN and MSNBC Daniel Goldman said that these tweets are a case-in-point on why Trump has a revolving door of lawyers and that they are a "different sort of obstruction of justice" and "witness interference/intimidation."
After Trump's tweets, Avenatti reacted on Twitter, saying that "bogus tweets aimed at kissing Mr. Cohen's a**" show panic has set in at the White House.
"As I predicted, panic has set in at the WH. So much so, that we now have bogus tweets aimed at kissing Mr. Cohen's a** and giving him a false sense of security and friendship with the hope that he doesn't tell the truth and bring the house of cards down. Too little too late," he said.
In a second tweet, Avenatti read between the lines, and wrote what Trump really meant.
"My Dear Friend: Don't you remember how I demeaned you to others and made you look like a fool? How I always over-charged you for the real estate? How I never defended you? How I abandoned you when I won and blew you off? Now that is true love Michael, and you know it! Now shush," he tweeted.
Just yesterday, Avenatti appeared on CNN's "The Lead" with Jake Tapper and boldly predicted that Trump would end up resigning.
"You said this week that you don't think President Trump will serve out his entire term. Where does that come from? That is a pretty wild claim," Tapper asked.
Avenatti replied that he hasn't been wrong yet and was adamant that Cohen will flip.
"Well, it is really not wild. My record thus far has been spot on. I don't think I've been wrong about anything yet in the last five to six weeks," he said. "Jake, there is a lot of evidence in this case, there is a lot of shoes yet to drop. Michael Cohen is not going to hold up."
"Michael Cohen is going to flip on this president and he knows where the bodies are buried, or at least many of them," he added. "I do not think that the president will last through the balance of his term. I just don't. Now, we'll find out if I'm right or wrong, but I think he's going to ultimately resign the presidency."
[Image via CNN screengrab]
Have a tip we should know? [email protected]