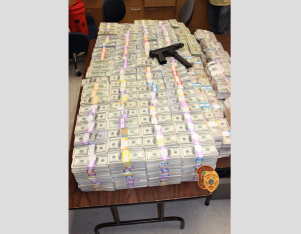 The Miami-Dade Police Department on Wednesday found at least $20 million in cash during a drug bust in what is reportedly the largest single cash seizure in the department's history.
In something that sounds like it is straight out of Scarface, NPR reports investigators found the money stuffed in 5 gallon paint buckets that were hidden behind fake a wall that led to secret room in the home of Miami resident Luis Hernandez-Gonzalez.
The arrest affidavit reportedly shows police were tipped off about Hernandez-Gonzalez by a confidential informant who told them he was involved in an indoor marijuana growing operation.  After an investigation that included the use of wire-taps on his phone lines, police say they contacted Hernandez-Gonzales at his store that sells indoor gardening equipment.  Cops say he was cooperative and voluntarily allowed them to search his home where they found this:
#BreakingNews: MDPD Narcotics detectives arrest 2, seize millions💰and recover a high powered weapon🔫 in NW Dade pic.twitter.com/MWIbeBHEqX

— Miami-Dade Police (@MiamiDadePD) June 29, 2016
Hernandez-Gonzalez was arrested and now faces charges related to money laundering and marijuana trafficking.
Have a tip we should know? [email protected]