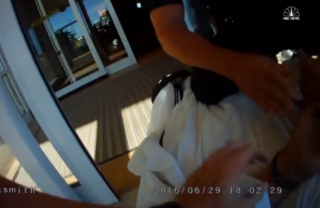 Mayor Bryan Jensen of Avon, Ohio issued a formal apology on Sunday after a misunderstanding at a hotel led to police treating an an Arab guest like a terror suspect, WKYC reported. Ahmed Al Menhali, a tourist from the United Arab Emirates, was staying at the Fairfield Inn and Suites when the sister of a hotel employee called 911.
The caller said that her sister notified her of someone in the lobby "in full head dress with multiple disposable phones pledging his allegiance to ISIS." The employee's father then also called 911 to report the same thing. Officers responded to the scene and found Al Menhali standing outside in a robe, talking on a cell phone.
Police drew their guns and ordered Al Menhali to drop the phone and get down on the ground before arresting him. They pinned him down, searched him, and found that he did not have any weapons on him. They spoke to the hotel employee and discovered there had been a miscommunication between her and her family members, and that Al Menhali had not pledged allegiance to ISIS. They then let him go and apologized. After being released, Al Menhali collapsed to the ground and was taken to a nearby hospital as a precaution.
Mayor Jensen and the Avon Police publicly apologized to Al Menhali for the incident, which occurred on Wednesday. Jensen said that despite officers following standard protocol based on the information they had received, it was a "regrettable incident" that "does not reflect our community." Jensen and the chief of the Avon Police also apologized to Al Menhali in person.
Message from Mayor Jensen: pic.twitter.com/wH63Uzmhdh

— City of Avon, OH (@CityofAvonOH) July 4, 2016
In a Facebook post, the Council for American Islamic Relations commended the mayor and the police for their swift response and apology, while still hoping that someone will be held accountable. "We appreciate the transparency and forthrightness of these officials and hope they will pursue this matter in terms of seeking justice for Mr. Al Menhali through the office of the prosecutor."
Have a tip we should know? [email protected]