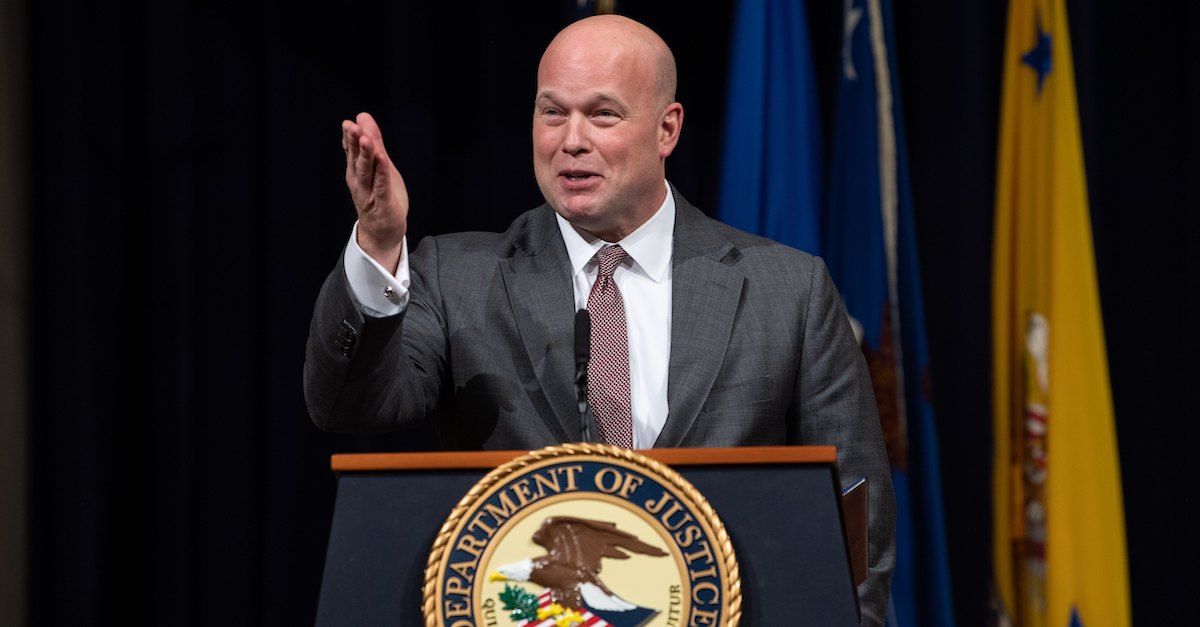 The much anticipated (and demanded) release of acting Attorney General Matthew Whitaker's financial disclosure form has occurred hours after it was reported that the document would go public as soon as today.
A fairly steady application of public pressure toward the end of last week continued into the weekend and resulted in the Tuesday release of Whitaker's Office of Government Ethics (OGE) form 278e, which you can peruse below.
CNN correspondent Laura Jarrett reported earlier Tuesday that Whitaker's financial disclosure forms would go public, but said the filing had "undergone revisions."
The document does show that revisions were made on Nov. 7, 8, 16, 19 and 20.
Director of the Departmental Ethics Office Cynthia K. Shaw left a note to say that "clarifications and revisions of information [were] made, based on information from [the] filer."
Below is Whitaker's filing for the year of 2018.
Matthew Whitaker's financial disclosure form by Law&Crime on Scribd
Whitaker's "new entrant" form, which he was required to file after being named chief of staff to former Attorney General Jeff Sessions, has also been released. The same revision dates were on it; the note from Shaw was identical.
It's not clear what Whitaker wished to clarify in these filings.
Whitaker New Entrant Form 278 Certified by Law&Crime on Scribd
This document did disclose that Whitaker received $1,875 in "legal fees" from World Patent Marketing, an alleged "scam" firm that is reportedly still under investigation by the FBI. Whitaker worked there in an advisory role.
Additional context
American Oversight, a non-partisan, non-profit ethics watchdog that calls itself the "top Freedom of Information Act litigator investigating the Trump administration," sent a letter on Friday to Office of Government Ethics "regarding DOJ's failure to share acting Attorney General Whitaker financial disclosures with the public."
The letter expressed concern that the DOJ "is not making available to the public in a timely fashion any public financial disclosure reports filed by Matthew Whitaker."
The group went on to say that Whitaker, who was appointed as former Attorney General Jeff Sessions chief of staff, would have been required to file a public financial disclosure form months ago.
"Matthew Whitaker was reportedly appointed Chief of Staff to Attorney General Jeff Sessions on October 4, 2017. As a non-career Senior Executive Service appointee at the Department of Justice, Mr. Whitaker is a required public filer. Consequently, the latest possible deadline for him to file the required public financial disclosure, assuming he received two extensions for good cause shown, was February 1, 2018," the letter said. "As an incumbent of more than 60 days in a covered position, Mr. Whitaker was also required to file an additional annual public financial disclosure report by May 15, 2018, again with two possible 45-day extensions, so at most no later than August 13, 2018."
A number of attorneys chimed in on Twitter to criticize the lack of an expedient release of said documents, and wondered what Whitaker or the Justice Department had to hide.
[Image via Nicholas Kamm/AFP/Getty Images]
Have a tip we should know? [email protected]