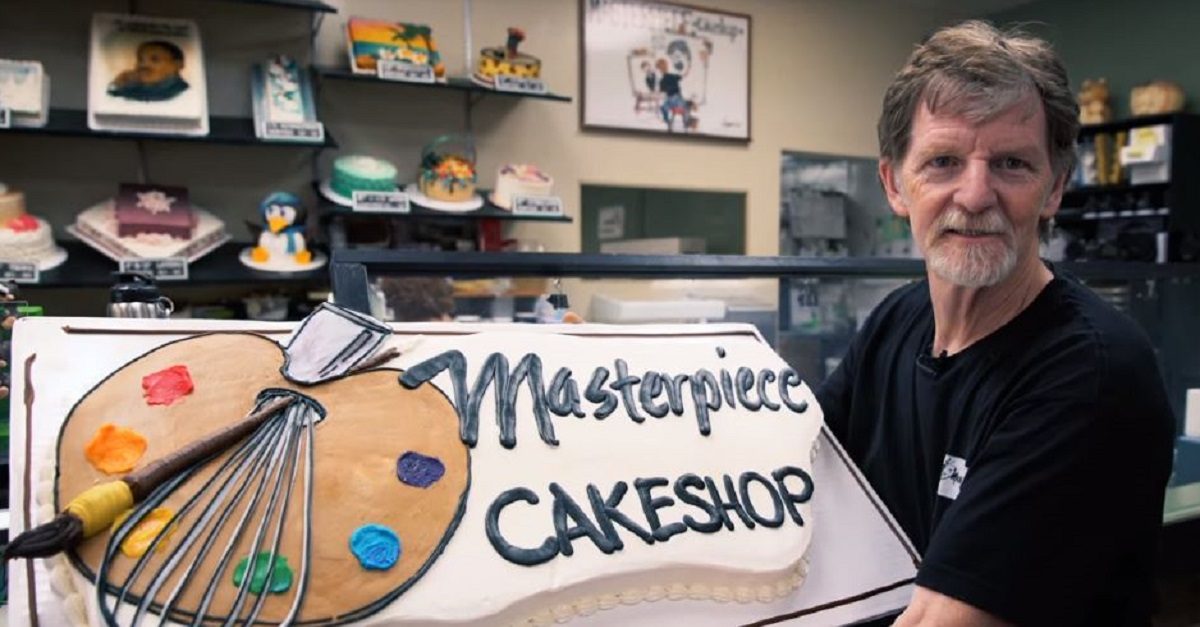 Jack Phillips, the Colorado baker who famously won a Supreme Court decision after he refused to bake a cake for a gay wedding, is claiming his state's government is attacking him for his religious beliefs all over again. This time, it's over a request for a cake celebrating a gender transition.
Phillips' original case raised issues of religious freedom and discrimination against sexual orientation, after a Colorado state commission accused him of violating their public accommodations law by discriminating against gay people. Phillips argued that this was not the case, rather he was simply refusing to actively participate in a gay wedding because it went against his religious principles. If it was for another occasion, he claimed, he would have accommodated the couple. The Supreme Court's decision focused on the state's handling of the matter, stating that they demonstrated hostility towards Phillips' beliefs, which robbed him of a fair hearing.
The same day the Supreme Court first agreed to hear the case, Masterpiece Cakeshop received a request for another cake that is now the center of a new lawsuit.
Autumn Scardina claimed to face discrimination from the bakery when a woman who answered the phone said they would not bake a cake that was pink on the inside and blue on the outside, after Scardina told her it was in commemoration of her transition from male to female. Phillips claims in his lawsuit that this cake request was just one of many that he received during that time period that he believes were setups. Those requests included "cakes celebrating Satan, featuring Satanic symbols, depicting sexually explicit materials, and promoting marijuana use." He believes that Autumn Scardina was behind at least one of these other requests, as her last name showed up on caller ID when someone called to request a cake of Satan smoking marijuana. Another time, the lawsuit claims, two people went to the shop and ordered a cake with a pentagram on it, and one of them identified themselves as "Autumn Marie."
In response to Scardina's complaint over the transgender cake denial, Phillips told the state that his bakery would not make a cake that "promote[s] the idea that a person's sex is anything other than an immutable God-given biological reality." The state found that there was probable cause that this constituted illegal discrimination.
Phillips strongly disagreed with this determination and is arguing in a new lawsuit that the state is out to get him because of his religion, violating Phillips' and Masterpiece Cakeshop's rights of free speech, free exercise of religion, equal protection, and due process. He raises similar issues that were involved in his previous case that the Supreme Court ultimately did not settle, but says the current case is evidence that the state continues to harbor the same hostility that the Court recognized in the past.
"It is now clear that Colorado will not rest until Phillips either closes Masterpiece Cakeshop or agrees to violate his religious beliefs," the complaint says. "The state's continuing efforts to target Phillips do not just violate the Constitution; they cross the line into bad faith."
To support this argument, Phillips claims that the state treats matters of alleged discrimination differently when religion is involved. He alleges that there is a double-standard, where normally "if a discrimination complaint is filed against a Colorado cake artist for declining to create a custom cake expressing a message he or she opposes, Colorado defers to the cake-shop owner's message-based objection and, consistent with what state law requires, does not "presume" that the owner discriminated against the customer based on his or her protected status." In his situation, however, he claims that Colorado automatically presumes that his decision was not content-based, but that he was discriminating against someone based on their protected status.
"The arbitrary basis on which the state is applying its law makes clear that its officials are targeting Jack because they despise his religious beliefs and practices," said Jim Campbell, Senior Counsel for Alliance Defending Freedom, who is representing Phillips. "Jack shouldn't have to fear government hostility when he opens his shop for business each day. We're asking the court to put a stop to that."
Law&Crime reached out to a representative for Colorado's Department of Regulatory Agencies, of which the Civil Rights Commission is a part, but they said they are "unable to provide comment regarding pending or active litigation."
[Image via Daily Signal screengrab]
Have a tip we should know? [email protected]