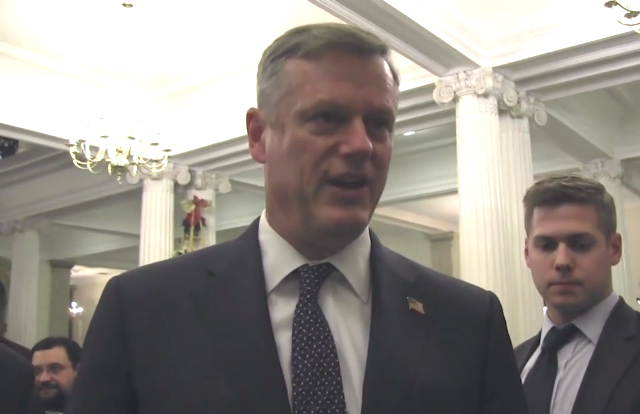 The Republican governor of Massachusetts wants to restore his state's ability to hold undocumented immigrants on ICE detainers after a court ruling eviscerated law enforcement's power to do so earlier this week.
That ruling, issued by the state's Supreme Judicial Court on Monday, barred state and local police from holding people wanted only for civil immigration infractions. In Lunn v. Commonwealth the court wrote:
"Recognizing a new common-law power to effect a Federal civil immigration arrest would also create an anomaly in our common law: a State or local police officer in Massachusetts (or, as in this case, a court officer) would be able to effect a warrantless arrest for a criminal misdemeanor only if it involves a breach of the peace …, but would be able to arrest for a Federal civil matter without any such limitation; in other words, the officer would have greater authority to arrest for a Federal civil matter than for a State criminal offense."
The Lunn ruling was not just a setback to President Trump and his mass deportation offensive, but a personal setback for Governor Charlie Baker, who broke from his Democratic predecessor and installed a policy in June of last year allowing state police to hold defendants wanted by ICE for up to 48 hours.
As an immediate response to Lunn, the Republican administration was forced to alter its policy. Therefore, immigrants charged criminally can no longer be held for ICE after posting bail. But now, Baker is said to be drafting legislation that would allow state police to hold people convicted of serious crimes on ICE's request.
In a statement issued by Baker's communications director Lizzy Guyton, the governor's office said they were working to "further cooperate with ICE by detaining individuals convicted of violent crimes such as murder or rape when ICE is unable to respond immediately to take them into custody." Additionally, Guyton noted that state police will attempt to frustrate the court's ruling by notifying ICE of the arrest and/or pending release of any undocumented immigrants in their custody.
For what it's worth, Baker's proposed legislation is probably dead on arrival. Democrats hold super-majorities in both chambers of the Massachusetts General Court and aren't likely to take up the Republican governor's bill anytime soon. In fact, prior to the Lunn ruling, Democrats in the Bay State had been working to tie the hands of state police viz. ICE detainers and hope to make Massachusetts effectively a sanctuary state.
[image via screengrab]
Follow Colin Kalmbacher on Twitter: @colinkalmbacher
Have a tip we should know? [email protected]