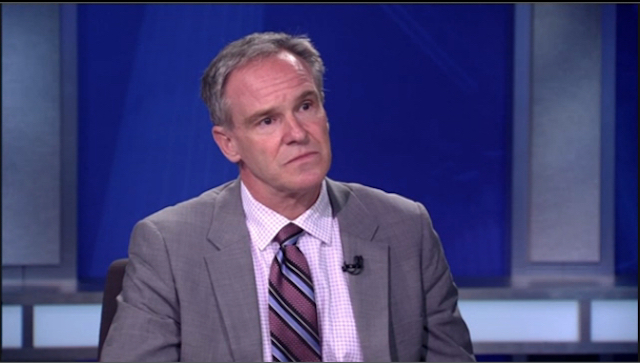 Manhattan's embattled District Attorney Cyrus Vance now has a prominent challenger for New York City's 2017 municipal elections.
Former Brooklyn district attorney candidate–and former sex crimes prosecutor—Marc Fliedner announced his bid as a write-in candidate against the two-term incumbent via Twitter just this morning. Fliedner's statement reads:
People have called upon me as a write-in candidate for Manhattan District Attorney, and while there is not necessarily time enough to mount an official campaign run, I have been informed by my team that the NYC BOE will accept my name as a candidate. I have focused primarily on policy work since the primaries – though this systemic collapse of justice under Manhattan DA Cy Vance so harrowingly shows the need for that – and I will accept the calls as a write-in candidate to give voters an ethical choice in a landscape totally devoid of women's rights and equal justice.
Under fire for alleged corruption and pay-to-play justice, Vance famously killed investigations into Hollywood mogul Harvey Weinstein, Ivanka Trump and Donald Trump Jr. after receiving hefty campaign contributions from their lawyers.
With Republicans not even bothering to field a candidate this time around, Vance, a Democrat, was running unopposed until Fliedner's announcement today. As a result of New York City's historic voting patterns, the five boroughs function politically as more or less a one-party state. Oftentimes the only real competition a politician will face comes during the Democratic primary.
Fliedner ran an insurgent campaign during the most recent primary against Brooklyn's current district attorney and came in third behind incumbent Eric Gonzalez and another progressive challenger, Anne Swern. According to the New York Post, the write-in candidacy was not Fliedner's idea, but he ultimately responded favorably to a "social media groundswell," aimed at drafting him into the running.
Fliedner once wrote an op-ed arguing that Donald Trump could be prosecuted over allegations of sexual assault over the years–even incidents which allegedly occurred outside the statute of limitations–based on the Molineux rule, which allows, "prosecutors [to] introduce evidence of other uncharged crimes or bad acts if it tends to establish motive, intent or absence of mistake or accident."
LawNewz spoke with Fliedner about Vance's decision to forego Weinstein's prosecution. In an interview today he said:
There's a wealth of information out there to substantiate the prosecution against Weinstein without relying on the tape alone. The idea that it was dismissed because of the tape by NYPD wasn't sufficient simply rings hollow. Sometimes sex crimes prosecutors have to be creative and assertive–and that's the road that was not taken here. People are justifiably asking 'Why?'.
A civil rights lawyer and proud member of the Democratic Socialists of America, Fliedner is also apparently the first openly gay man to run for district attorney anywhere in the United States, according to his Twitter bio.
[image via screengrab]
Follow Colin Kalmbacher on Twitter: @colinkalmbacher
Have a tip we should know? [email protected]