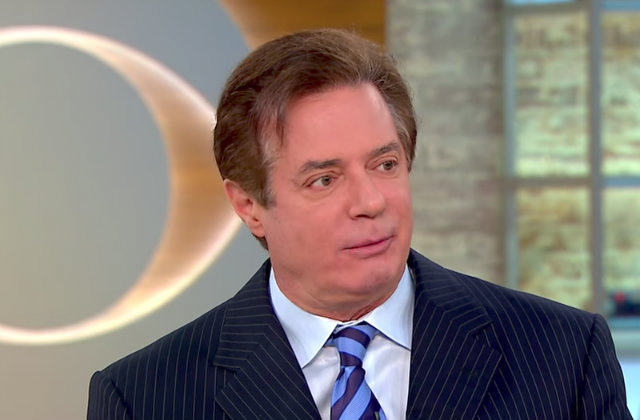 Attorneys for Paul Manafort told the judge on Friday how they anticipate fighting charges. One of their tactics is eliminating evidence improperly attained in a search. From the filing (emphasis ours):
At this time, the defense anticipates that pretrial motions will be filed concerning the legal basis for and sufficiency of the charges, the suppression of evidence improperly obtained by search warrant, subpoena or otherwise (including the application of exceptions to common law privileges), as well as motions in limine based on discovery to be provided by the Government in preparation of trial.
Paul Manafort's lawyers say they will seek to suppress "evidence improperly obtained by search warrant, subpoena or otherwise." pic.twitter.com/Yxf1KPVXBh

— Brad Heath (@bradheath) November 3, 2017
Prosecutors say Manafort (President Donald Trump's former campaign manager), and colleague Richard Gates money laundered and worked as unregistered agents of the Ukrainian government. If the defense is successful, the evidence underlying some of those claims might become useless. The FBI executed a search warrant at Manafort's Virginia home in July. A CNN report later showed that investigators may have attained some evidence protected by attorney-client privilege, and are not covered by that warrant. If so, the defendant's Fourth Amendment rights may have been violated.
Law Newz Editor-in-Chief Rachel Stockman recently took a look at the legal issues at play here:
As the article points out, this certainly brings up concerns as to what exactly was seized, what investigators saw, and who handled the material. You can't "unsee" evidence once you saw it.

"If they (investigators) had any kind of heads up, and they went beyond the scope of the warrant, that could be a problem," Henry Hockeimer, a former federal prosecutor, told LawNewz.com.
This isn't to stay that Special Counsel Robert Mueller's case is ruined.
"If, on the other hand, investigators accidentally seized privileged attorney-client communication, they could be in the clear, as the Supreme Court has found this is probably not a Fourth Amendment violation," Stockman wrote. "In other words, if agents just made an innocent mistake, quickly returned the documents, they may be okay, depending on the steps that were taken. It is not clear at this point when Manafort's lawyers warned the FBI of the existence of this material."
Mueller also filed on Friday, saying that he needed 15 trial days to present his case. It is standard for prosecutors to provide judges with estimates for the trial length. Time spans vary widely, depending on the amount of evidence and number of witnesses at play. To be sure, however, this might the first trial that some people are following. This indictment spun out of Mueller's probe into alleged collusion between the Trump campaign and Russian interference in the 2016 election. These charges have nothing to do with those claims.
[Screengrab via CBS]
Have a tip we should know? [email protected]