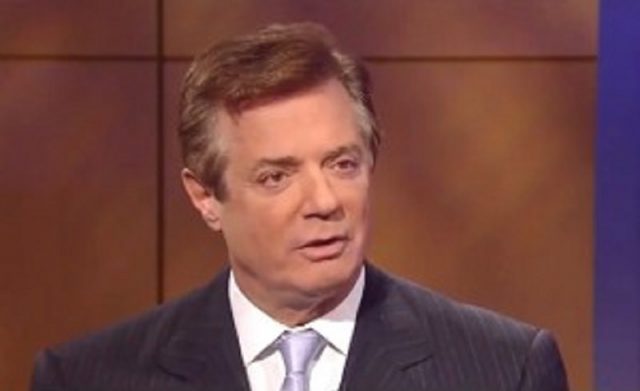 Prosecutors led by Special Counsel Robert Mueller claimed Monday that former Trump campaign chair Paul Manafort drafted a ghostwritten op-ed about his work for the Ukraine. His alleged co-author is a Russian with connections to that nation's intelligence services, according to court documents. Now prosecutors are opposing a motion to lift Manafort's house arrest because this article, if published, would have violated the court's gag order on the case.
"The editorial clearly was undertaken to influence the public's opinion of defendant Manafort, or else there would be no reason to seek its publication (much less for Manafort and his long-time associate to ghostwrite it in another's name)," said court documents.
Prosecutors did not describe the op-ed draft in much detail. They want to file it in court under seal so the article doesn't become public.
Manafort and co-defendant Richard Gates were arrested October 30 on allegations that they formerly worked as unregistered agents of the Ukrainian government for years. Other charges include money laundering. They pleaded not guilty, and are scheduled for a trial next year.
These claims are part of Mueller's investigation into Russian interference in the 2016 presidential election, including whether the Trump campaign helped the Kremlin. Manafort/Gates allegations have nothing to with those alleged ties, however. President Donald Trump has called the collusion accusation as "witch hunt" by Democrats.
Have a tip we should know? [email protected]