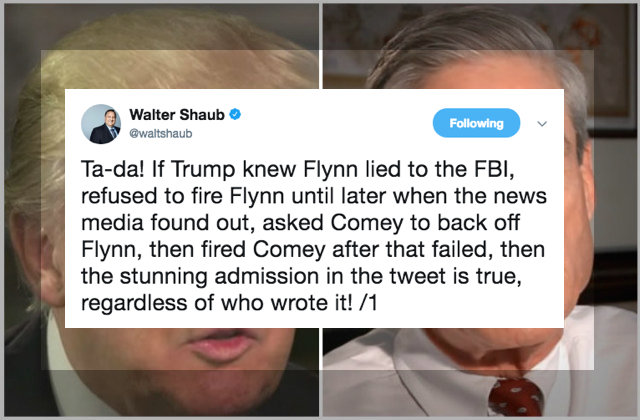 President Donald Trump's infamous tweet about Michael Flynn's lies to the FBI was an admission on his part regardless of who actually wrote it, according to the attorney who recently headed Trump's own Office of Government Ethics.
Walter Shaub currently serves as the senior ethics director for the Campaign Legal Center, a non-partisan public interest watchdog. He previously served as the director of the United States Office of Government Ethics from January 9, 2013 through July 19, 2017, under both Presidents Barack Obama and Donald Trump.
In a series of tweets starting at 12:08 p.m. earlier today, Shaub laid out a lengthy analysis of the firestorm that's erupted since Trump sent the original tweet commenting on Michael Flynn's admitted lies to the FBI. He wrote:
Ta-da! If Trump knew Flynn lied to the FBI, refused to fire Flynn until later when the news media found out, asked Comey to back off Flynn, then fired Comey after that failed, then the stunning admission in the tweet is true, regardless of who wrote it!
Shaub's analysis relies on an earlier report from today which alleged Trump was told about Flynn's federal subterfuge prior to firing former FBI Director James Comey. According to that report, White House Counsel Don McGahn alerted Trump to Flynn's dishonesty before Trump asked Comey to cease investigating Flynn.
Critics quickly pounced on Trump's tweet about Flynn as evidence–or a personal admission–that America's 45th president obstructed justice by firing Comey because he knew about Flynn's criminal actions when he pressed the former to cut the latter some slack.
Shaub has already contested Trump and Dowd's claim that Dowd actually wrote the tweet in question. Shaub's suspicions are based on the hard-to-believe idea that Dowd, a seasoned attorney, would have made the layperson's mistake of writing "pled" instead of the correct legal term "pleaded."
Here, Shaub is essentially saying that whoever actually wrote the Flynn tweet is now immaterial. In another tweet, he wrote:
This makes Tweet-gate weirder. Did Dowd write it or did Trump? Either way, if the admission in the tweet is true, why bother claiming Dowd wrote it? If that claim is untrue, it's a useless deception. If that claim is true it's a pointless waiver of attorney-client privilege.
[image via screengrab]
Follow Colin Kalmbacher on Twitter: @colinkalmbacher
Have a tip we should know? [email protected]