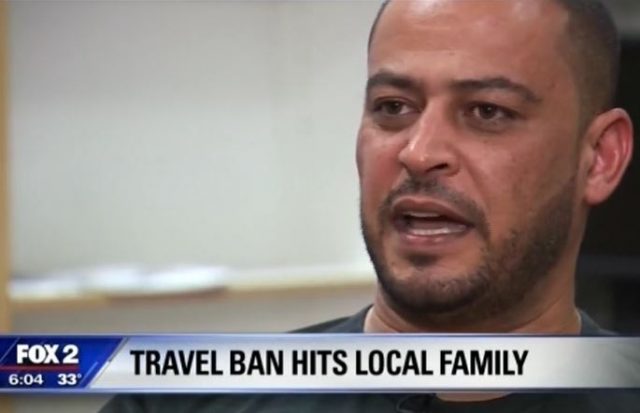 A Detroit man's story made headlines after he told reporters that his mother died in Iraq while waiting to return to the U.S. He said she was held up due to President Donald Trump's recent travel ban from that country and others in the region. Now, the woman's imam says it isn't true. Mike Hager originally claimed that his mother, who was ill, was turned away when they were attempting to go back to the U.S., where they lived, because she was not a citizen. Hager, who is a citizen, said he went back home to Michigan, but his mother and other relatives stayed behind, his mother died the next day. Hager's imam, however, has a different story.
According to Fox2Detroit, who had reported the original story, Imam Husham Al-Hussainy, of the Karbalaa Islamic Educational Center in Dearborn, Michigan, says that Hager's mother did die from illness, but not when Hager said. Al-Hussainy says that the woman passed away five days before Trump issued his executive order, so the ban had nothing to do with her death.
Hager's mother suffered from kidney disease, Al-Hussainy says, and she went with her family to Iraq to visit family, where she died on January 22. Trump signed the order on January 27, so there was no ban in place at that time.
Fox2Detroit is reportedly reaching out to Hager for information, but has yet to publish a statement from him in response to the imam's claim.
[Image via Fox2Detroit screengrab]
Have a tip we should know? [email protected]