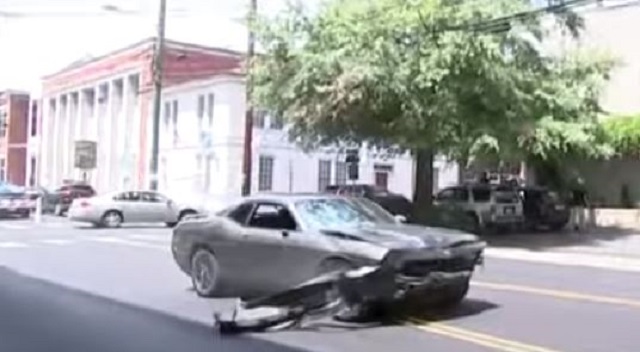 A Michigan man was falsely identified as the driver of the Dodge Challenger that plowed into a crowd of counter-protesters at the "Unite the Right" rally is Charlottesville last weekend. Now, after facing threats and fleeing his home, Joel Vangheluwe and his family are planning to take legal action.
The incorrect reports about Vangheluwe had been circulating the internet on 4chan and Twitter, but right-leaning outlets such as GotNews.com then picked up the story, reporting it as fact before ultimately taking it down, CNNMoney reported. Vangheluwe is reportedly a critic of President Donald Trump, and the reports about him apparently hoped to show that the Charlottesville attacker was not a white nationalist after all.
The site based their report on the license plate of the car, which they traced to Vangheluwe's father Jerome. A reported Facebook search led them to believe that Joel then had possession of the car. But none of this took into account that the Vangheluwe family sold the car years ago.
The real suspect has since been identified as James Alex Fields Jr. GotNews retracted their story soon after publishing it.
But the damage had already been done, even before the GotNews article ran. Vangheluwe has reportedly been bombarded with online harassment from people believing he was behind the deadly attack. He eventually responded by posting, "I drive a 2009 chevy impala, not a challenger, f**k the internet," and "I'm not the one, i'm from f**king michigan you idiots."
The family's lawyer, Andrew Sommerman, told CNNMoney that the Vangheluwes left their home at the advice of law enforcement to find somewhere else to go for the time being. "It's been really bad. They've been terribly harassed," Sommerman said.
When LawNewz.com  reached out to GotNews for comment, founder Charles Johnson simply responded, "Isn't it the standard press ethics that a lawsuit has to be filed before you cover it?"
Indeed, while Sommerman indicated that the family plans to take legal action against the online sites that published the false story, he did not specify who they would go after.
Sommerman did say, "My message to those outlets is that if your words can cause great harm, and has caused great harm, you must suffer the consequences of the law as a result."
Note: An earlier version of this article identified the car as a Dodge Charger instead of a Dodge Challenger.
Have a tip we should know? [email protected]