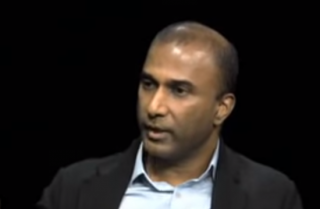 A man who says he invented email as a 14-year-old in 1978 claims that articles published about him in 2012 have cost him dearly. Dr. Shiva Ayyadurai has taken credit for creating the electronic messaging format as we know it today, saying he came up with it while working as a research fellow at the University of Medicine and Dentistry of New Jersey. According to a federal lawsuit, his job was to design a computerized version of the inter-office paper mail system, with an inbox, outbox, drafts, address book, as well as functions such as "To:," "From:," "CC:," and "BCC:."
But his claims have been met with skepticism in recent years, including articles posted on Gizmodo.com and Gawker.com, both owned by Gawker Media. Ayyadurai is now suing Gawker and the authors of the articles for libel and other claims. He alleges that Gawker intentionally published false statements about him that damaged his reputation and career.
To support his case for being the inventor of email, Ayyadurai says he wrote roughly 50,000 lines of code for the UMDNJ program, and came up with the name "email." He has received credit for the invention from TIME magazine and linguist Noam Chomsky, who said in 2012, "The facts are indisputable," referring to whether Ayyadurai is the true inventor.
But clearly not everyone agrees with this attribution. In February 2012, a Gizmodo article titled, "The Inventor of Email Did Not Invent Email?" called Ayyadurai a "fraud" and discussed claims that email was truly invented by Ray Tomlinson in 1971 (in a TIME interview, Ayyadurai said Tomlinson "really did text messaging") . Another article, published the following month, says, "there's precious little evidence that Ayyadurai came remotely close to inventing email." Ayyadurai's lawsuit says that second article contains several statements that Gawker and the author who wrote it knew to be false. When Ayyadurai married actress Fran Drescher in 2014, Gawker.com published a story calling him "a big fake," with a link to the second Gizmodo article.
Ayyadurai alleges that Gawker published these articles knowing they were false and "likely to harm [his] personal and professional reputation and business." He claims that after lecturing at MIT from 2009-2012, his contract for the 2012-2013 school year was rescinded. Ayyadurai says that he lost support from MIT as well as funding for his research after the Gizmodo articles were published. The lawsuit also refers to a display that the Smithsonian Institute had planned in 2012, which would profile Ayyadurai's invention of email, that was nixed after the articles went online.
The attorney who filed the lawsuit on Ayyadurai is none other than Charles Harder, who represented Hulk Hogan in his victory over Gawker earlier this year. "These demonstrably false statements have caused long term harm to Dr. Ayyadurai's personal and professional reputation and career," Harder's law firm said in a statement.
Harder and co-counsel Cornell Dolan refer to the Hogan case, and many others, in an entire section of Ayyadurai's complaint devoted to Gawker's controversial activity. In that section, the attorneys use 14 paragraphs to discuss past lawsuits and scandals involving Gawker, just to show how Gawker "routinely engages in wrongful conduct."
Ayyadurai is seeking $35 million. In addition to libel, the complaint includes causes of action against Gawker and the authors for intentional infliction of emotional distress and intentional interference with prospective economic advantage. He is also suing Gawker founder Nick Denton and editor John Cook for negligent hiring and retention.
Update 5/12/16 5:56pm: A Gawker Media spokesperson said in a statement:
These claims to have invented email have been repeatedly debunked by the Smithsonian Institute, Gizmodo, the Washington Post and others.
[image via screengrab]
Have a tip we should know? [email protected]