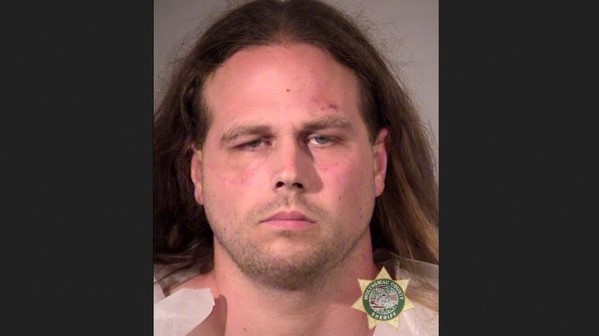 PORTLAND, Ore. (AP) — The man accused of killing two men and wounding a third who tried to stop his anti-Muslim tirade against two teenagers on a Portland, Oregon, light-rail train shouted he was "not guilty" Wednesday during a courtroom outburst directed at one of the victims.
Jeremy Christian, 35, didn't enter a formal plea during his brief court appearance but said he was "not guilty of anything but defending myself against the violent aggression by Micah Fletcher!"
Fletcher was in the courtroom but said nothing to reporters and displayed no reaction as he left with his father. The 21-year-old was stabbed in the neck during the May 26 attack that killed Ricky Best and Taliesin Namkai-Meche.
The stabbings shocked the liberal city and deepened worries about a series of apparent hate crimes in the region and contentious public rallies that have drawn national attention.
Prosecutors who have reviewed videos and interviews with witnesses say in court papers that Christian yelled hateful comments at two black girls, one of whom was wearing an Islamic head covering called a hijab.
When the girls moved away from Christian, he made a sudden move toward Namkai-Meche. The two got into a confrontation, prompting Fletcher to stand up.
Christian shoved Fletcher in the chest and then pulled out a knife that he concealed in his right hand, prosecutor Ryan Lufkin wrote. Fletcher pushed Christian back, causing him to stumble.
Christian asked Fletcher to "Hit me again!" as Fletcher kept telling him to get off the train.
Christian then stabbed Fletcher, Namkai-Meche and a third man who intervened, Best.
Christian was arraigned Wednesday in a 15-count indictment charging him with aggravated murder, attempted murder and other crimes. The hearing lasted about two minutes, and he's due in court again July 18.
He is being held without bail at a jail in downtown Portland.
Court officials made the hearing earlier and banned livestreaming in an effort to avoid the chaos that erupted at Christian's first court appearance.
Last week, Christian shouted, "You call it terrorism; I call it patriotism!" and spectators watching a video feed in the hallway because they could not get a seat nearly brawled with one of the suspect's supporters before turning their anger against sheriff's deputies.
Four charges in Christian's indictment stem from a confrontation Christian had with a black woman at a light-rail station a day before the killings. He hit her in the face with a bottle before she pepper-sprayed him, Portland police Sgt. Pete Simpson said.
Written by Steven DuBois, Associated Press
Have a tip we should know? [email protected]