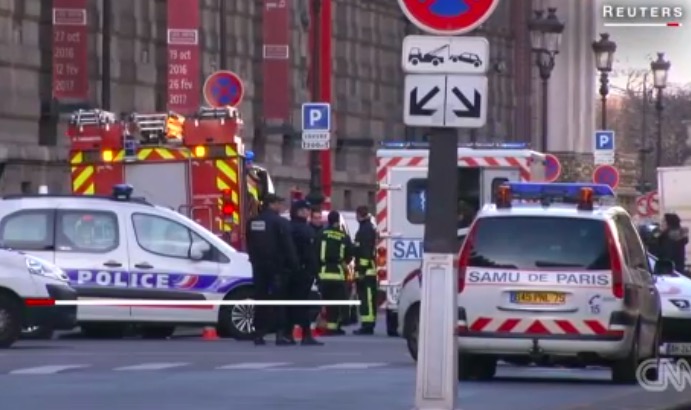 9:25 p.m.
A French prosecutor says the man who attacked soldiers in front of the Louvre Museum is believed to be a 29-year-old Egyptian who was living in the United Arab Emirates, but his identity has not been formally confirmed yet.
Prosecutor Francois Molins says at a news conference Friday night that the French soldiers' quick reactions put an end to "a terror attack" Friday morning at one of Paris' most iconic tourist attractions. He says "everything shows that the assailant was very determined."
He says the attacker, who was shot by the soldiers, is in a life-threatening condition in a hospital.
Molins said the attacker had no identity papers but investigators used his cellphone to find out that he was a resident in the United Arab Emirates who came to Paris on a tourist visa on Jan. 26. Two days later he bought two military machetes at a gun store in Paris.
___
7 p.m.
Two French officials close to the investigation into the attack at the Louvre Museum in Paris say several police raids are underway in the French capital.
A police official, speaking anonymously because he is not allowed to disclose details about the case, wouldn't give details on the precise location of the police raids Friday afternoon.
A police union official, Luc Poignant, said one of the raids took place on Rue de Ponthieu, a street near the Champs-Elysees Avenue, the city's famed boulevard.
A man attacked French soldiers on Friday morning near the Louvre, and they shot him while other security forces locked down the famous museum. He has been hospitalized and the French president says he will be questioned "when it is possible to do so."
— By Sylvie Corbet
[image via screengrab CNN]
Have a tip we should know? [email protected]