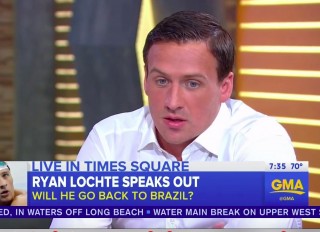 U.S. swimmer Ryan Lochte believes the media coverage surrounding the "robbery" incident in Brazil has been totally overblown.  Yes, he apologized for the "lie," but said an investigation by USA Today revealed more details that play to his favor. Particularly that he never vandalized a gas station bathroom, as authorities contend.
Last week, Brazilian prosecutors charged Lochte with filing a false police report. He is accused of lying to police about being robbed at gunpoint at a gas station in Rio de Janeiro earlier this month.  He spoke Tuesday morning to Good Morning America's Amy Robach.
When asked if he would return to Brazil to face charges, Lochte dodged the question.
"I have a great team, they are dealing with it all the legal issues, we are just trying to get this over with … its been dragged out way too long," he said.
WATCH HERE:
Attorneys for Lochte have said they are cooperating with Brazilian authorities. However, in the ABC interview, Lochte did want to make one thing clear — the reports about him vandalizing a bathroom stall are not true. Brazilian police said during a press conference that the swimmers, while intoxicated, vandalized the restroom.
'The story about me vandalizing the bathroom is absurd, it never happened," he said to Robach.
That statement is in line with a recent USA Today investigation which found:
An extensive review of surveillance footage by a USA TODAY Sports videographer who also visited the gas station supports swimmer Gunnar Bentz's claim that he did not see anyone vandalize the restroom, an allegation that in particular heightened media portrayals of the four as obnoxious Americans behaving recklessly in a foreign country.
Lochte does admit to pulling down a poster at the gas station, and said they paid the owners back for that.
"The part that I told that wasn't true was having the gun pointed to my head and cocked. That was over exaggerated," he said.
Lochte also said he has reached out fellow swimmer Jimmy Feigen and offered to pay the $10,000 fine if "he will let me." In order to return to the U.S., Feigen agreed to pay Brazilian authorities the money.
[Screengrab via ABC News]
Have a tip we should know? [email protected]
Rachel Stockman - President / On Air Host