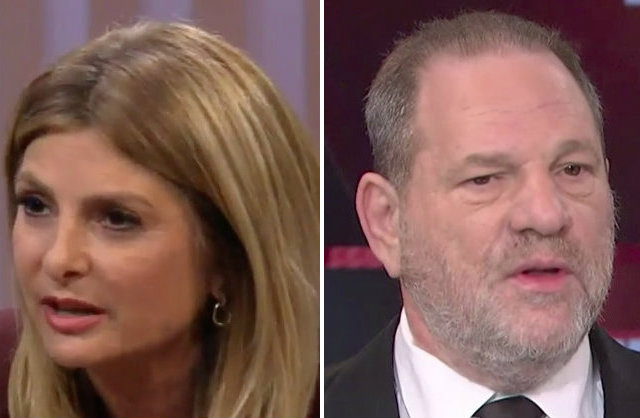 Feminist attorney Lisa Bloom was reportedly made aware of at least some of the sexual misconduct allegations against Harvey Weinstein at the height of the 2016 election–when she was representing victims who had allegedly been assaulted by then-candidate Donald Trump.
According to a long, detailed, and admittedly somewhat convoluted report by freelance journalist Yashar Ali in the Huffington Post, Bloom was made aware of those allegations against Weinstein during drinks with a Texas trial lawyer in October 2016.
The lawyer from Texas is man named Thomas Ajamie. He became entwined in the Harvey Weinstein drama through his investigations into alleged financial improprieties involving an AIDS charity, a theatre charity, Weinstein, and designer-cum-activist Kenneth Cole.
Essentially, a deal was secured that was possibly intended to line Weinstein's pockets and leave everyone else happy, but things went awry and the AIDS charity–the American Foundation for AIDS Research ("AmFAR")–got screwed. As mentioned, the story gets convoluted and readers are advised to read through the whole thing if so inclined to ferret out the finer points of detail.
Ajamie had apparently just finished his investigation on the alleged improprieties conducted on behalf of Weinstein and submitted his report to AmFAR's board of directors. After submitting that report, Ajamie was allegedly contacted by numerous sources offering tales of Weinstein's alleged sexual crimes. And he also so happened to be having drinks with Lisa Bloom in Los Angeles. This was October. Ali's report goes on:
It was just before the 2016 presidential election, and then-candidate Donald Trump was facing an ever-growing number of women who were accusing him of sexual misconduct, ranging from harassment to assault. Ajamie had reached out to Bloom via email initially in an effort to see if there might be the possibility of representing some Trump accusers.
The story doesn't explicitly mention what happened with the possibility of joint-representation (by Bloom and Ajamie) for Trump's accusers, but it's safe to assume that idea went nowhere. During their conversation, however, Ajamie brought up the Weinstein allegations. He asked if Bloom was aware of them. She said she was not and that the two should keep lines of communication open. They apparently did so–and apparently discussed the Weinstein allegations a few times after that, according to Ali's reporting.
A few months later, though, Bloom is said to have cut off contact with Ajamie. During a phone call, she cited "a conflict" due to Weinstein's optioning of her book about Trayvon Martin for a TV series. At the same time–and which Bloom apparently didn't mention then–was that she was representing Weinstein as his personal attorney on issues related to the sexual assault allegations against him.
Now, let's fast forward a bit. The three major players here–Bloom, Ajamie and Weinstein–ultimately met in person for a two-hour-long conversation in Park City, Utah earlier this year. It was January and the small ski community was filled with out-of-towners hoping to capture whatever tinselly magic people hope to catch at the Sundance Film Festival.
At some point during that January conversation, Weinstein allegedly began boasting of his various sexual conquests. This apparently prompted Ajamie to ask Weinstein whether he was admitting to cheating on his wife. Weinstein purportedly confirmed the admission and then apparently justified it in various ways. A couple of the allegedly offered excuses: (1) Weinstein was "a powerful guy,"; and (2) "everyone wants an Academy Award."
After awhile, Weinstein, apparently unprompted, told Ajamie, "I know you're telling people that I rape women." Ajamie said he was investigating such claims, but that he wasn't going around stating them as facts. Bloom's response to that exchange, if any, was left unmentioned. Bloom didn't have to say much at all, of course, she apparently already knew.
LawNewz reached out to Bloom for comment on this story via email. After being presented with a series of detailed questions, Bloom responded, "Like so much of the reporting on me, this story is false."
[image via screengrab]
Follow Colin Kalmbacher on Twitter: @colinkalmbacher
Have a tip we should know? [email protected]